Discussion Starter
·
#1
·
It a simple game against a buddy of mine trying to see if skaven can win without shooting and magic. It wasn't a great game, but I am posting here to try out my new graphics for battle reports. I am trying to make the game be as clear as possible with the new system, let me know what you think. As usual, any comments about the game are also appreciated.
Simple 1000 point game, yes I write a lot of reports at 1000 points, mainly because anything over that and I have trouble remembering where every unit was to be exact enough for diagrams. I'm trying to get it at close as possible to the real game, and they should be very accurate.
Beasts of Chaos vs. Skaven Horde
My troops:
2 units of 20 man herds with bray shaman, 2 units of 10 man herds, 2 units of 5 warhounds, 4 Minotaurs w/ great weapons, Tuskgor Chariot.
His troops:
3 units of 25 clanrats (two of them have chieftains), 20 plague monks, 5 plague censer bearers, 10 night runners, 5 giant rats and master, 10 stormvermin, 20 slaves.
Pretty standard deployment from me, though I have shifted to the right a bit. The big units in the center can really go anywhere, Minotaurs will be able to have full reign of the left side of the board as there is nothing there that can match them in speed and damage. The chariot will hit something hard on the right side, it will depend on how it plays out. He has tons of troops, and I wonder how I am going to take them all down, I am not often outnumbered. His NIght runners are on the far left presumably for flanking and such, clanrats without a hero beside them. Plague monks are next to add a bit of a punch and the censer bearers are behind them for cover from my magic. His General is in the center unit with a group of slaves for bait and flee. On the far right he has a trio of Giant rats for baiting, clanrats for the backstop and Stormvermin as a hard hitting flank.
Turn 1.1
I win the roll to go first and move everything forward. On the right I have the warhounds in position to bait and flee next turn, and the minotaurs and small herd are there to flank and I clear the flee zone. The right side goes a bit slower as they have to wait up for the chariot. A pretty successful magic phase as I get Hunter's Spear into his general's unit and Crow's Feast into his giant rats. Both units take casualties and I hoped to panic them both off the board, but there weren't enough clanrats killed even the giant rats stay.
Turn 1.2
Most units inch forward for him, the clanrats on the far left side run up next to my warhounds to take a charge from my units. He move his giant rats as fast as they can to try and block in my chariot, we know each other well and these are obvious dares.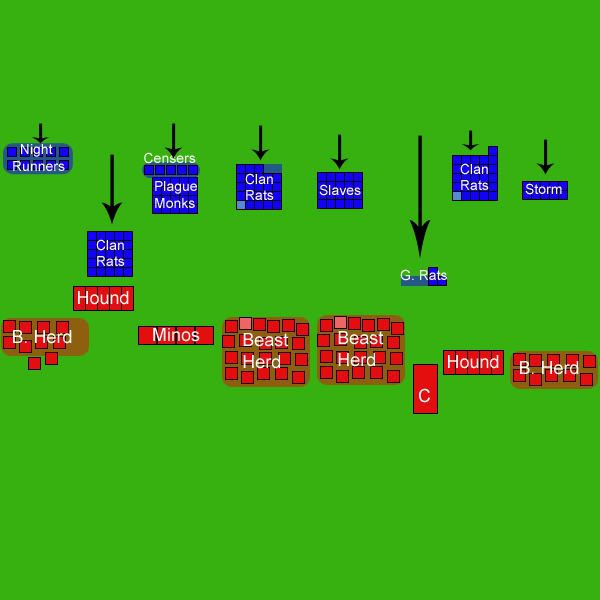 Turn 2.1
I charge the plague monks with my minotaurs he was too close and I knew it. My warhounds on the left charge the front of the clanrats and the small herd flanks. He accepts the charge hoping to flank next turn. My other warhounds charge the giant rats, and I place them so they will run into the clanrats next turn so they will not be able to move. My large herds backpedal an inch, and my small herd on the left move across my line to avoid combat with the stormvermin and get away from the warhound's flee line. My chariot rotates to face the enemy units on the right side of the board. Another round of magic kills a few more from his general's unit and a few slaves too, but they both pass their panic checks. My Minotaurs obliterate his plague monks, killing 7. They chase down the monks and hit the censer bearers. My warhounds on the right kill the two remaining giant rats and chase down the packmaster into the clanrat unit behind them. My warhounds and small herd on the left side kill a few skaven but it isn't enough to break them completely and they stick around.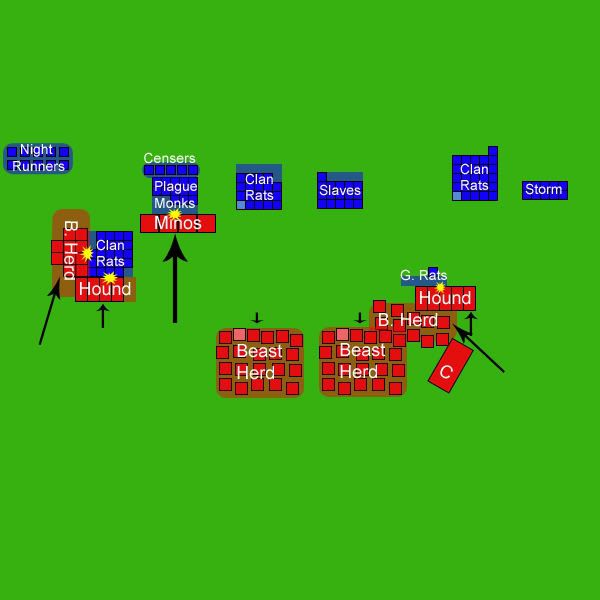 Turn 2.2
He charges my small herd with his night runners and flank them. He move his slaves and general's unit forward and rotates his stormvermin to see my units. The night runners tip the combat in his favor this round and both my small herd and my warhounds run. His night runners chase my small herd on the left off the board. My minotaurs wipe out all the censer bearers, but their special rule does two wounds to the minotaurs. My warhounds on the right side do nothing but kill a single rat and then flee after the hero kills 3 of them. He holds his unit in place, and the warhounds flee all of 3 inches.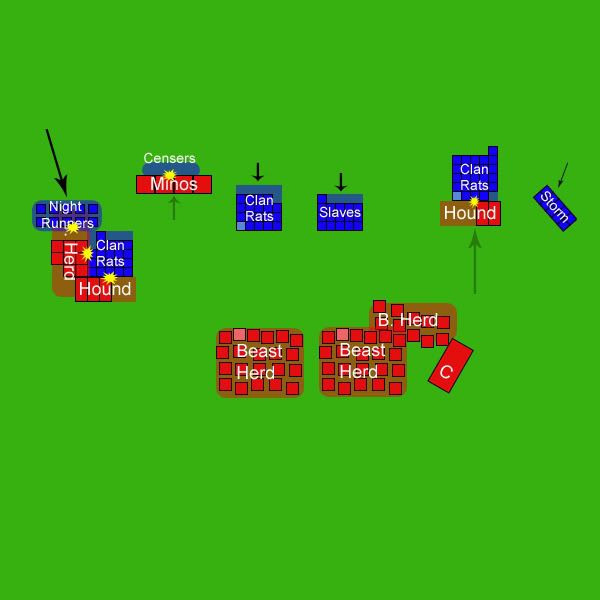 Turn 3.1
I charge the slaves with my right-most large herd, and his stormvermin with my chariot. My warhounds on the left fail to rally and continue to flee, but my ones on the right miraculously recover their senses. I rotate my minotaurs to face his units and move my small herd out of sight ready to flank next turn. My Crow's Feast is a dud this round, but I use 3 dice to make sure I get Bear's Anger on my shaman in combat. The spell helps and he kills 3 slaves just by himself. A couple more wounds come from the rest of the unit, and things aren't looking good for those slaves. My impact hits on the chariot kill the entire front rank and the rest of the attacks kill an extra one. With two more units on the ropes, and a bunch of potential for my herds and minotaurs to do damage next round to his units with heroes the game is called.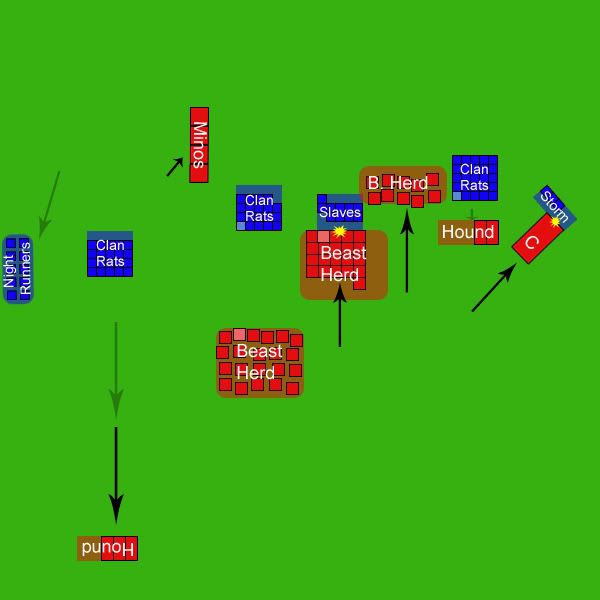 We got what we wanted to know, skaven need shooting and/or magic to win. It was a good experiment, but he will keep his normal list.