Discussion Starter
·
#1
·
So time has come for me to start a new thread of a new modelling thingie...or two actually. I feel a bit like if I'm just riding the wave of the titans being created but this has as much to with the inspiration I got from them as it has to some other important things.
*Karmoon
*Titan Knights/Biped Defiler builds
*My own work0:
*The Brass Scorpion of Khorne
*Appocalypse
So, though they are not so common here on LO I've seen a lot of Defilers converted to Knight Titans from the unmentionable place WIP. It's a mighty nice place, but totally unlinkable from here, I don't know why.
Some of them I have liked but most of them have been nothing more than Defilers with less legs than usual. I've however always been struck by the potential of such a conversion.
So, with help from Karmoon I've come to be able to try my wings on this idea, it's a little similar (or will be) to my earlier Chaos Conversions.
I initially thought about making it into a loyalist Knight but as soon as I touched the sculpting tools and stated roaming my bitsbox, I knew I was smoked. Chaos owns me...
These models will be able to use as Titans of some sort (Knight-ly in size and armament) in Appocalypse games, with their rules -void shields and such...did I mention structure points
but I would also like to be able to field them in a regular game of 40K as Defilers, so they are not super huge or anything.
Finally the BrassScorpion. The inspiration I drew from this is far more obstinate then the earlier sources. Buy two expensive kits to build one expensive model... not really my cup of tea I must say. So I thought I'd go the other way around. Build two models from one kit.
I used parts mainly from the Defiler, but then some from all over the place and due to my son (2 year old) playing with the digicam, hiding it like if it was a pirate-treasure under stuff in the playroom I have not been able to document the early states of conversion. But It's quite easy just cutting and glueing.
Apart from the sparebits and the Defiler there is quite some plasticard being used too. A lovely material to work with, get a knife and a pair of siccors and just go crazy.
Finally I have to mention the bluetac. If it only was aliving being I think I would marry it. Such a great lifecompanion. Forget the dog, bluetac is man's new best friend.
You'll see quite a lot of blue tac here, though it's nowhere close to what it used to be.
Rambling? Me? Pics? OK.
I'll start with the head. I think it's just the top and botom of the defiler upperbody with some plasticard on the sides.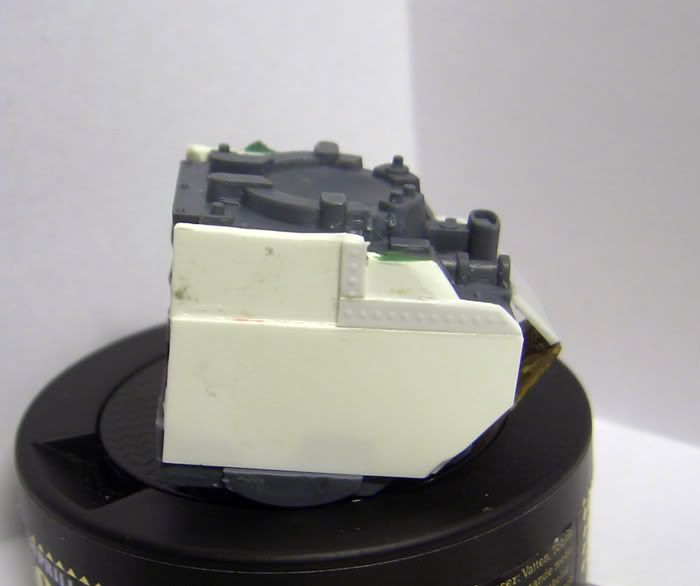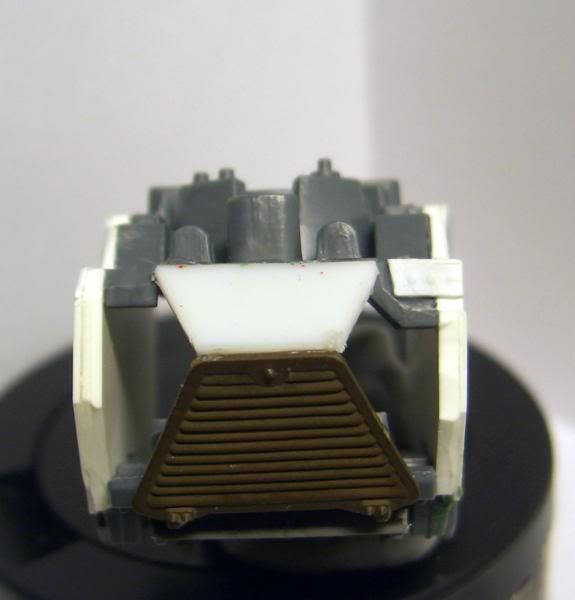 The front filter s from some German WWII tank thing I bought secondhand at the carbootsale. It was quite expensive...30p or something and has supplied a lot of interesting parts this far. The Chaos-star is from the Defiler kit, just cut it down, filed it flat on one side and attached it.
Then I go to the arms, none of them finished both very WIP. The right arm will be armed with the Battlecannon and It'll also have the optional Reaper Autocannon. I've used the basic setup on my earlier Defilers and it's been a great little complement to the big one. Though the new rules with the chance of getting a bucketload of CC-attacks makes the choice a bit harder. So I'll keep it open.
See, bluetac all over the place
The two Autocannons are from the Cadian boxed set of Heavies, the pipe is from a russ and the exhaust at the end is the backpiece of a really old plastic SM-terminator.
I'll be adding details and Chaosy things in a while, but first I'm waiting for the Sentinel leg to soak breakfluid enough so it can be stripped from the inchthick layer of paint someone just had to give it. (Folks, never ever use a roller to paint minis, sure it's fast but you are bound to lose some details on the way)
The other arm (the left one) is to be kept a CC-dedicated limb. So I basically just going to give it one mother of a claw, build from...the Defiler's claws.
The arm is made up from a couple of lascannons, the CC-arm of the Defiler, some wire and a little greenstuff and random pieces of plastic. There is also some Defiler armour on it.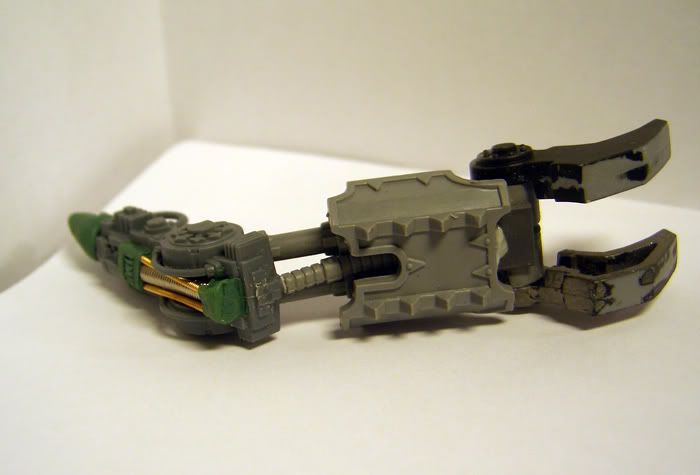 It will get a thumb and I will fill the freaky holes in the defilerclaws with plasticard. You can see some of the Defiler CCW tubing used as ...well CCW tubing.
Then we'll take the legs. For them I've cleverly used... the arms of the Defiler. It took some filing and positioning to get them into a beliviable pose but to me the pose is very important, so it was well spent time. I also used some plasticard to make the lower legs a bit wider. They'll get armourplates covering them in a later state and some more pistons and hightechyness in the back.
Aren't they beautiful
Here's a pic of them both...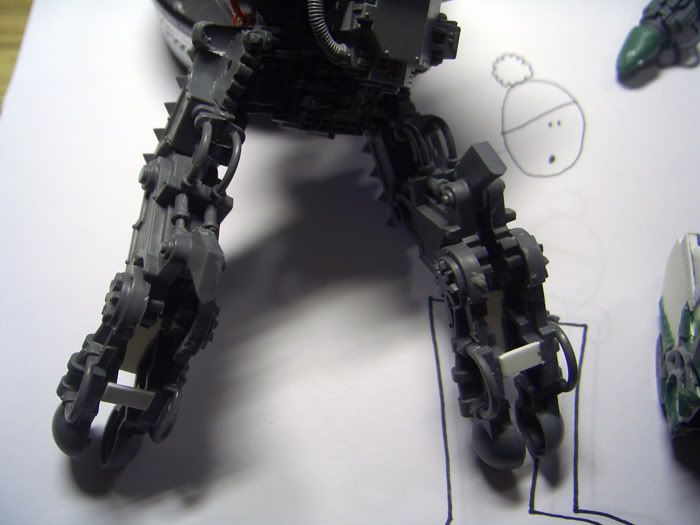 The upper body is made from the Defiler torso and the...the..hmm...thing that keeps the defiler's legs in place. Spine-like gizmo you know. To this I've added a Dreadnaught missile launcher, half a teleporterhomer, a rhinodoor split in half and some plasticard.
The greenstuff you can see used to hold the Defiler exhaust pipes but they fell of shortly before I found the camera. They'll be back next time I post pics though.
The front is made from two LemanRuss HB-turrets and the top is plasticard and the soon to be greenstuffed other half of the Chaos-star I used in his face.
BACK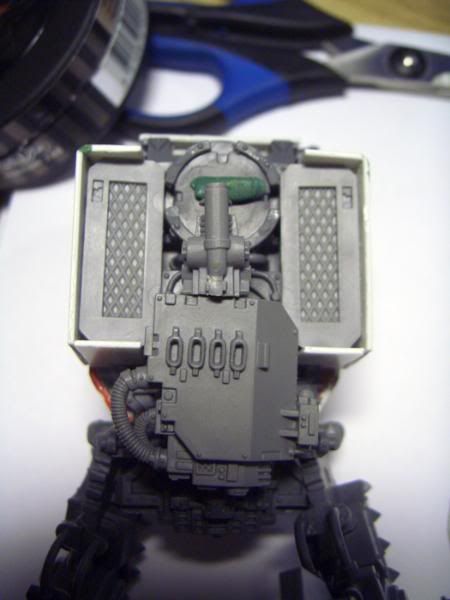 FRONT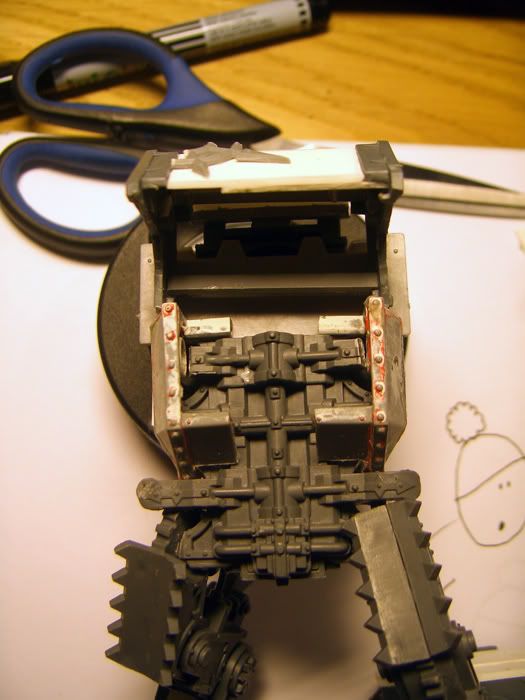 RIGHT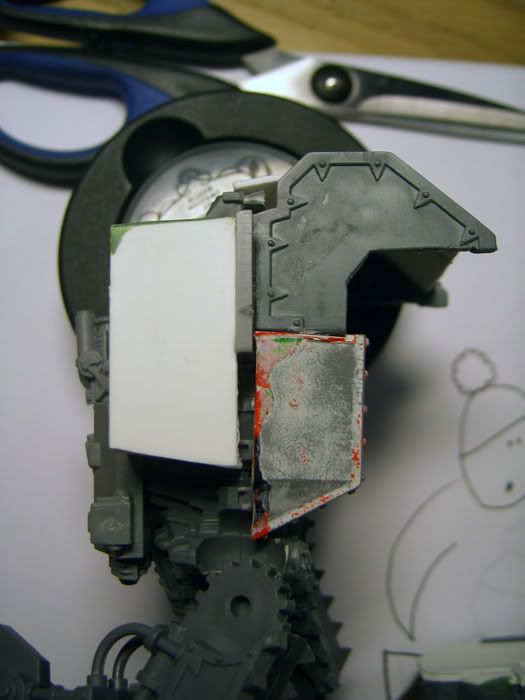 LEFT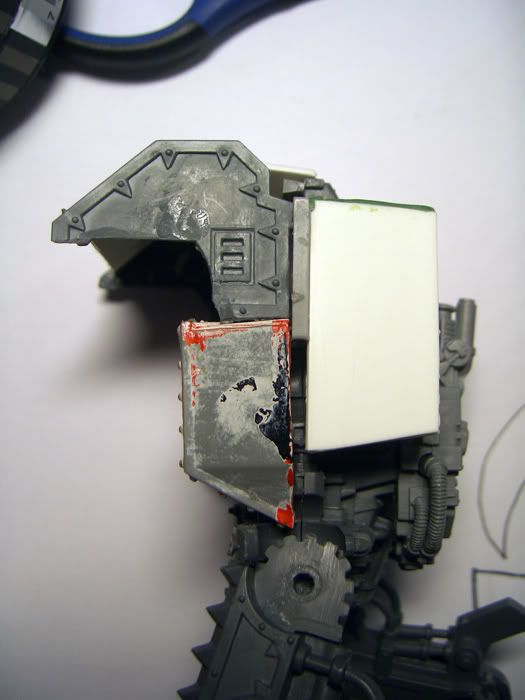 So, that's about it...nah
I've used the trusty old bluetac to put him together too, just so I can work on the pose. It might be a bit difficult to see at the moment, but once the armour plates and tubing has been added (and of course the right upperarm) ..and feet and...more... you'll all see how it is supposed to look.
I want him to have that "come here and I'll rip you apart or stand there and I'll shoot ou to pieces, course I'm a machine possessed by a daemon with a lot of attitude"-look that the Chaos Warhound has.
Oh, and I almost forgot -he's got a loincloth too. It's just straight from the OgreBullies box.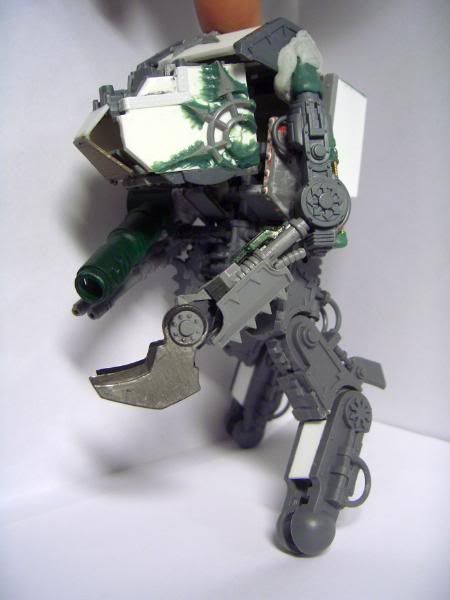 That's all for now folks.
Please critisize me in the creative way.
:drinking: