·
Woof! Woof! Bark! Bark!!!
Lots of Pics...
Howdy everybody!
This forum (Librarium-Online) is the best little corner on the internet devoted to tabletop wargaming. I have to thank all of you for being here and contributing and participating in all the various threads and discussions. I love seeing your work and enthusiasm, and I am honored to be part of the community.
The LO community has been what has motivated me to paint for the last year. I recently came to the conclusion that I have far too many marines.
- This is a good thing.
So, I would like to have this thread be my permanently WIP showcase of my Chaos Space Marine army, "Perdition's Flame" (7th company, Black Legion)
I know you have seen some of these miniatures before, I will try to have new photos of everything in this thread, and there will be plenty of new stuff... check back often!
Enjoy!
Group Shots
(click into these - they get big...)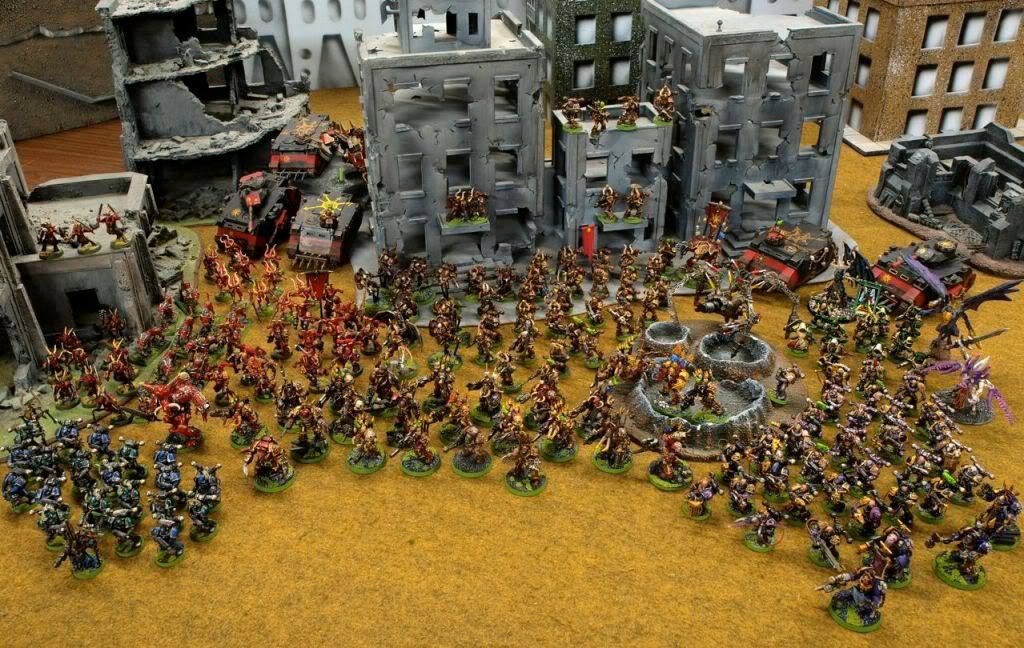 I have never had the whole army out in one go -- I am amazed at how much I have. Apocalypse anyone??
-Actually, this photo is old, it has none of my Nurgle in it!
Nurgle Army
Some Khorne troopers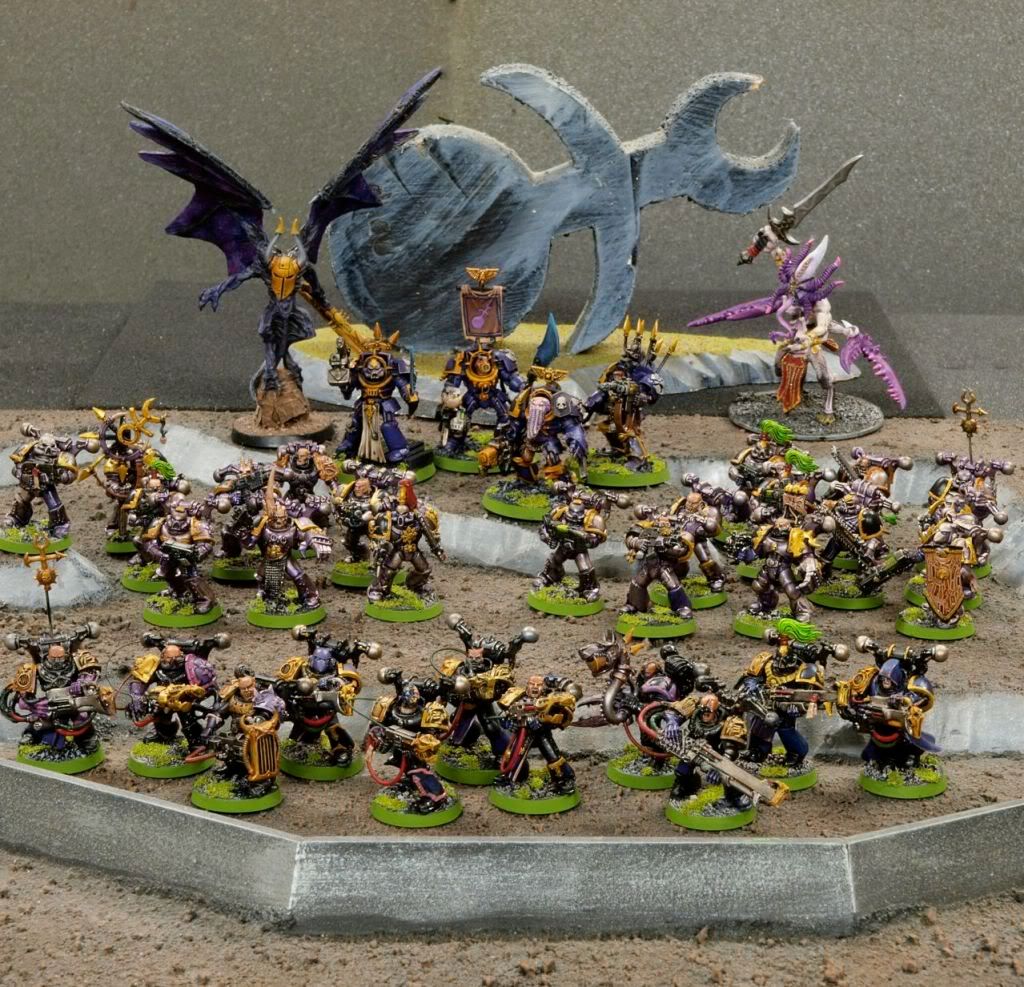 Slaaneshi tableau
HQ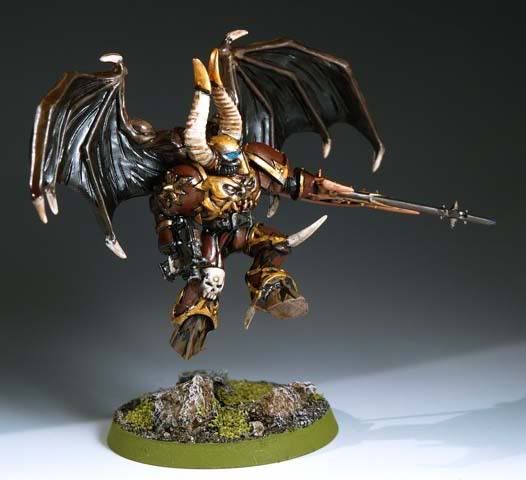 No name for this guy yet. He is used as a flying Lord with a Daemon weapon.
Lord Fred, Destroyer of the un-chaosy.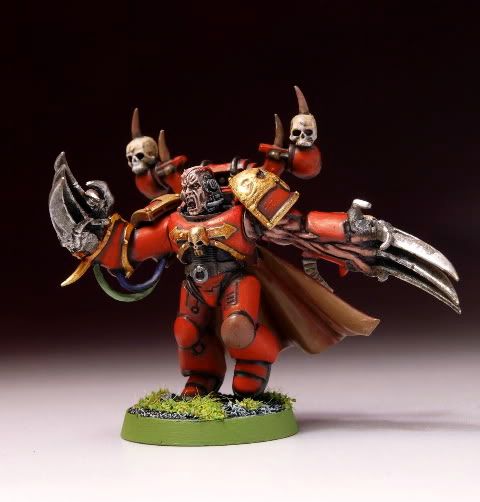 Lord Zufhor, the early years. (before he became the awesome Forge World model that I haven't painted yet...)
The Daemon brothers of Nurgle. Dubya and Jeb.
There is a rule somewhere, I think, that everybody on the planet must have a Kharn...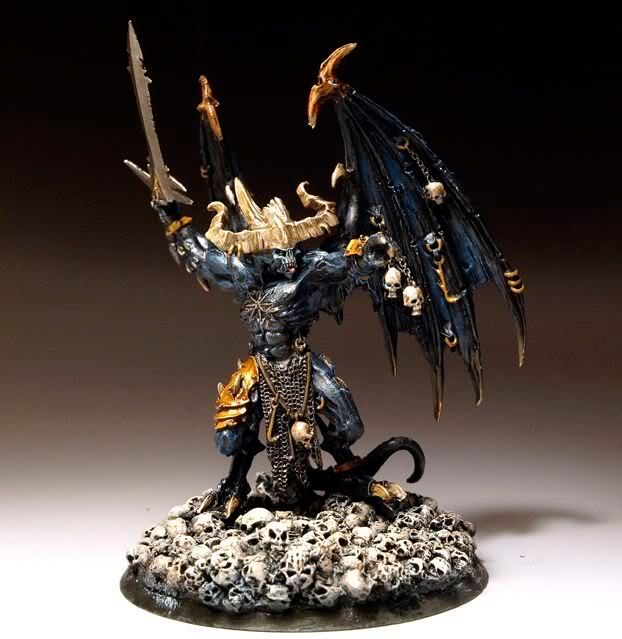 Daemon Prince, made from the Be'Lakor model. Painted him up to match a neat squad of Thousand Sons - looking guys that I bought from a local store.
Slaaneshi Demon Prince.
A very cool Biker Lord that I got from a fellow gamer at one of our local Rogue Traders. I might get a bike squad to roll with this guy, once my Emperor's Children bikers are finished.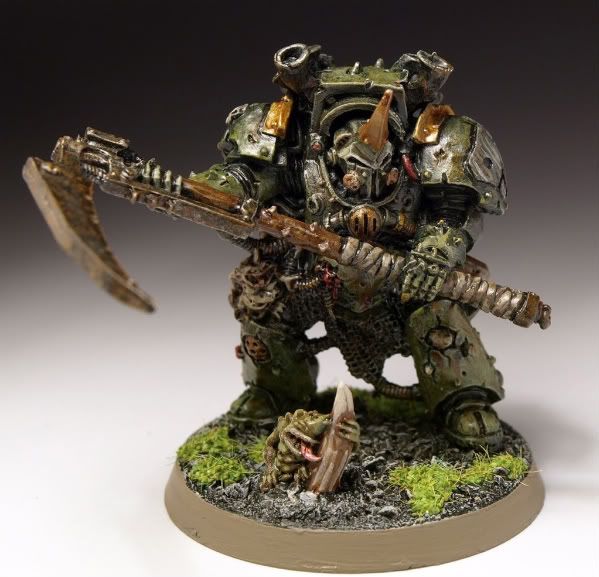 Typhus. This is a very nice model, if you like Death Guard, Nurgle, or even just terminators, you should paint one of these for your collection.
ELITE

Cypher is such a cool model and character that every Chaos player should have one. Plus, Fallen Dark Angels are just awesome!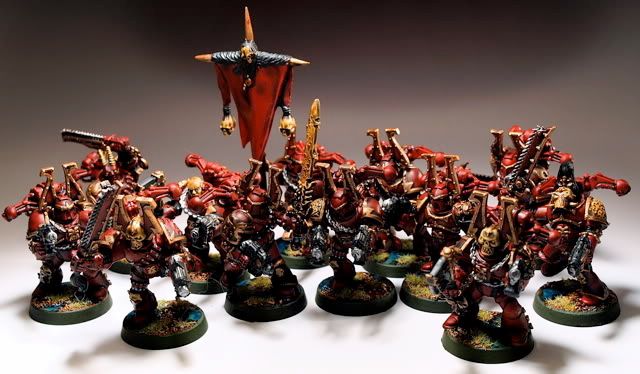 The best assault troops in the game. Painted by Blue Table Painting - great people, wonderful job!
Sorcerer Dra'kken and his retinue. Formerly Brother Librarian Drake of the Ultramarines, Dra'kken fell from the Emperor's light in a battle near the Eye of Terror only a few decades ago. He helped heal and repair some of his wounded battle-brothers, and taught them the truths of change -- knowledge he fully understood and accepted, now that it was clearer due to his proximity to the warp-strewn Eye. Perdition's Flame will happily recruit renegades into it's ranks, and since then, Dra'kken and his brethren have been at the forefront of the battle to destroy the Golden Throne.
Noise Marines
Noise Marines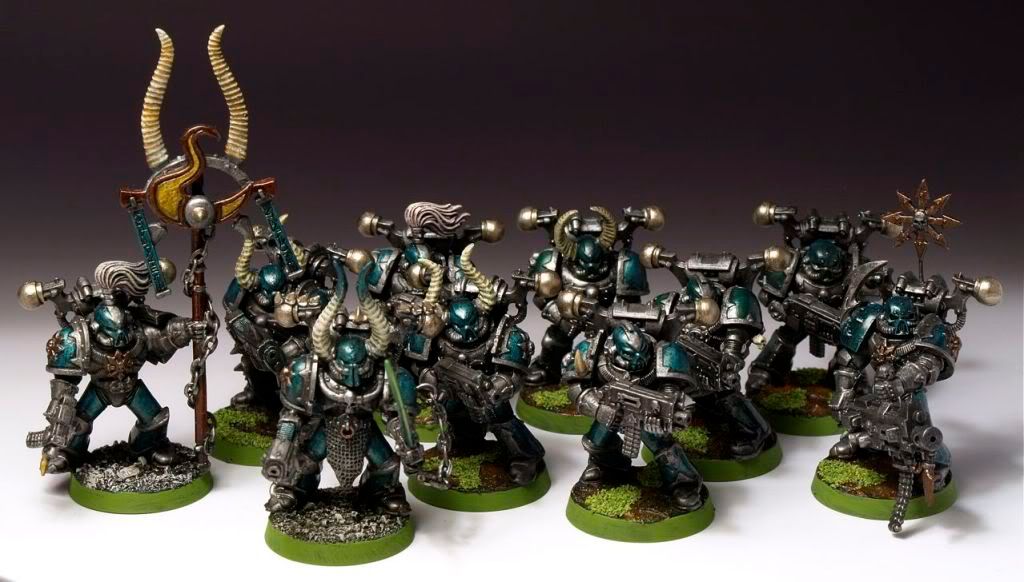 This squad and the next are very versatile - mix them together and you get Alpha Legion. Use the full squads together and you have Rubrics or Mark of Tzeentch. Peel away the Iconography from the Green ones and they make decent Death Guard... It goes on and on!
These 2 squads of Tzeentch-y looking guys were bought from the same chap who made the Biker Lord pictured above. These are wonderfully painted - because the paintjob is
extremely
simple, and looks very, very good.
My take on Thousand Sons. Ghost marines!! I have a new sorcerer in progress, this one was photographed again to make the photo complete.
Here are some of my Plague Marine squads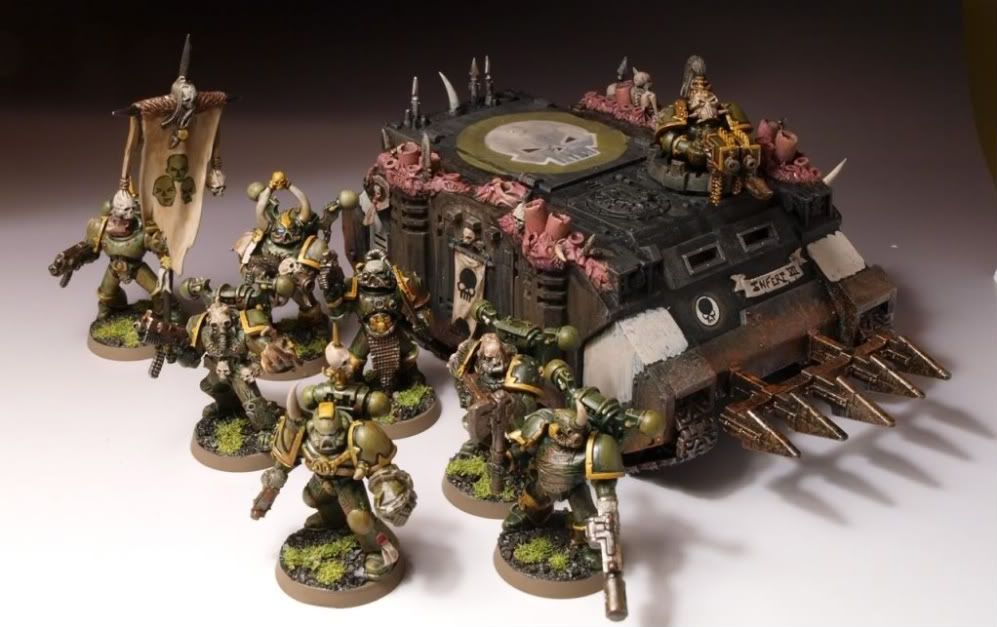 Plague Marine squad
Another Plague Marine squad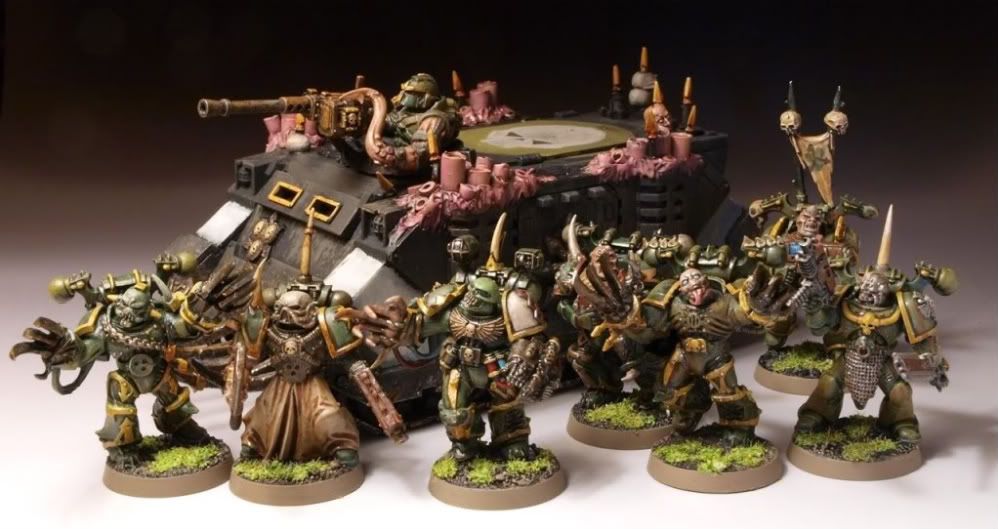 TROOPS
Squad 1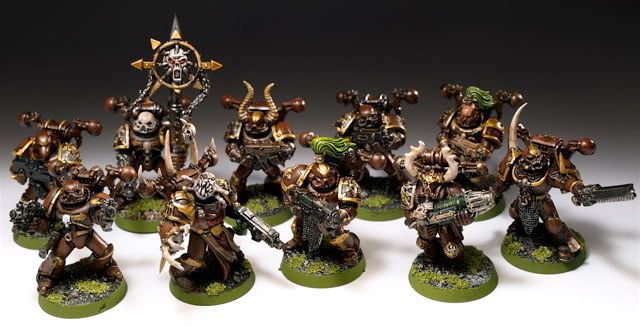 Squad 2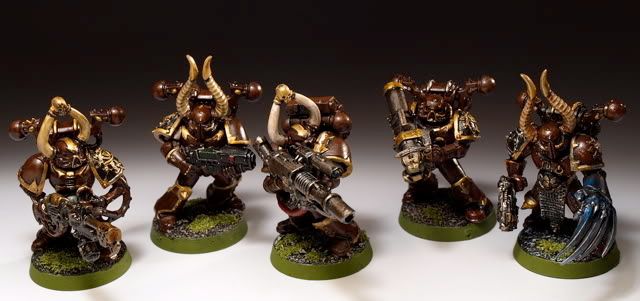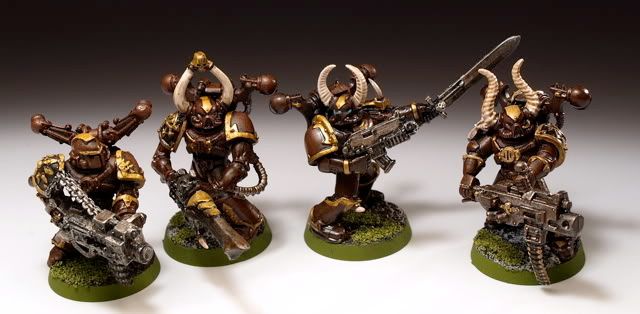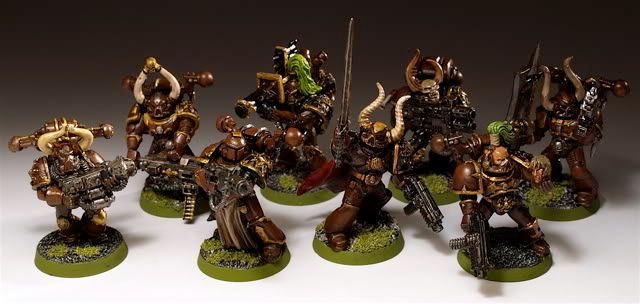 Various Marines
My first squad of Chaos Marines. Painted in the era of 3rd BGB, 2nd Codex. I gotta re-base these guys...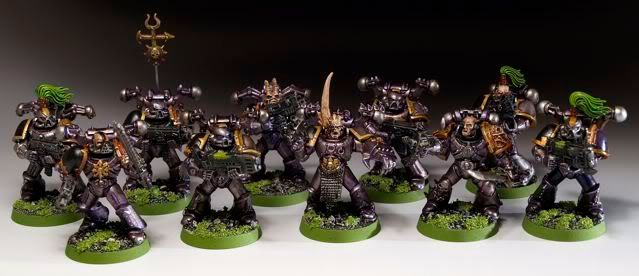 ARMOR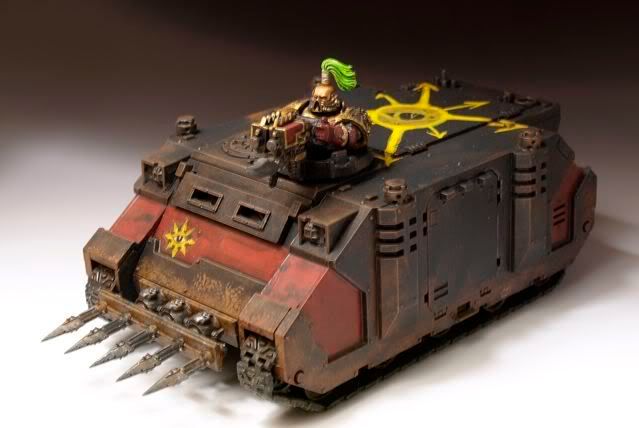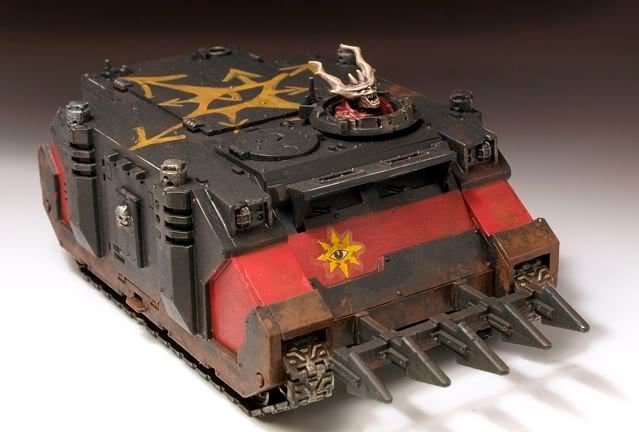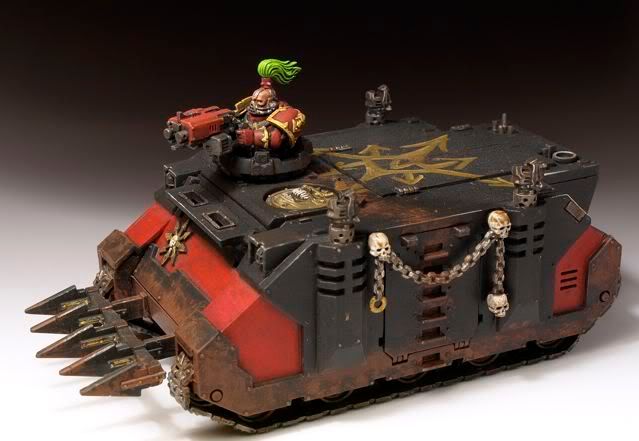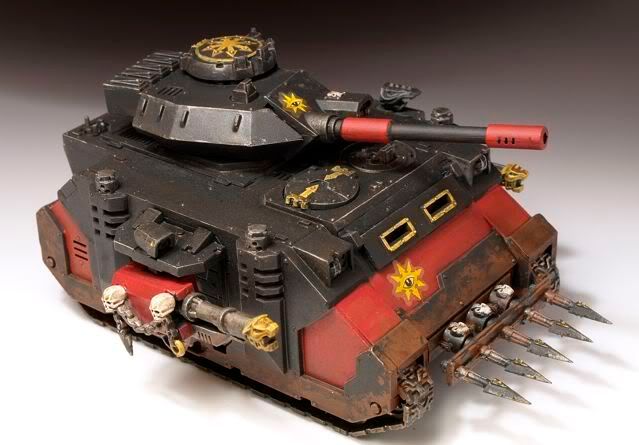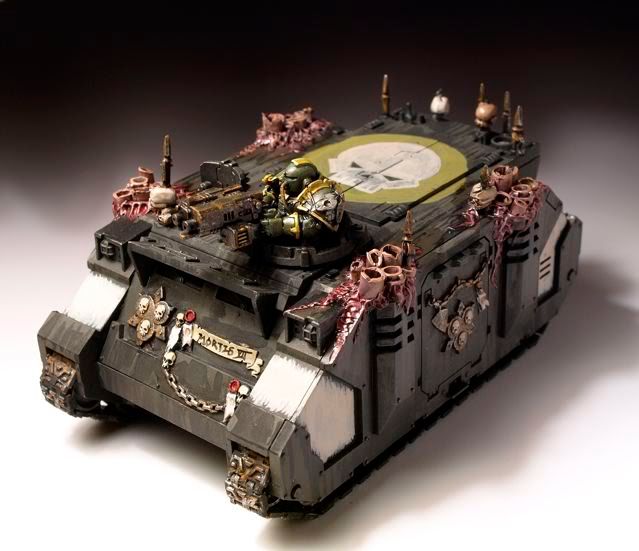 TACTICAL DREADNOUGHT ARMOR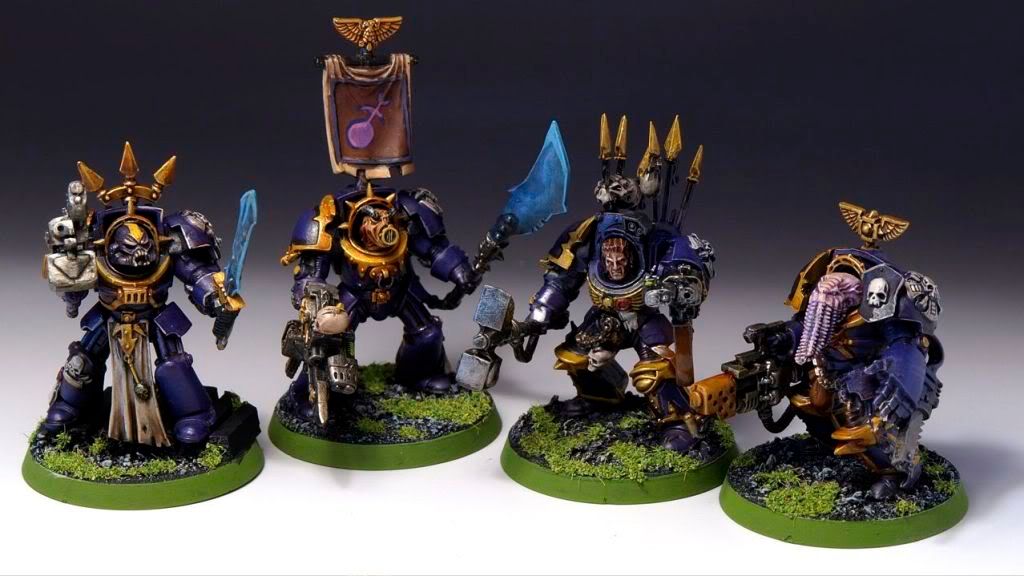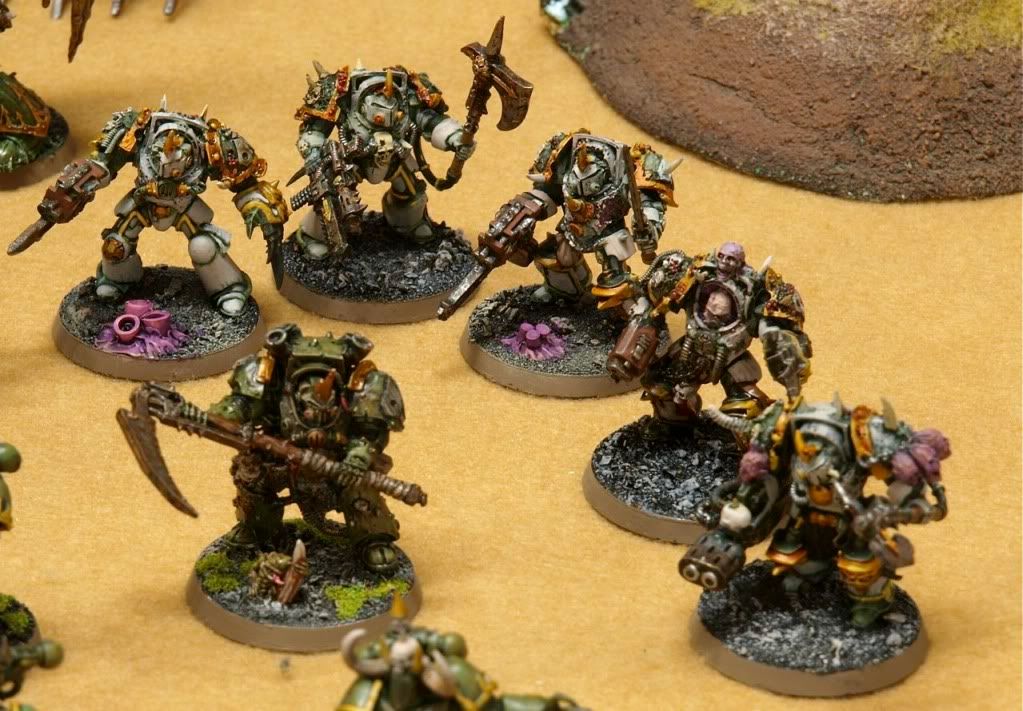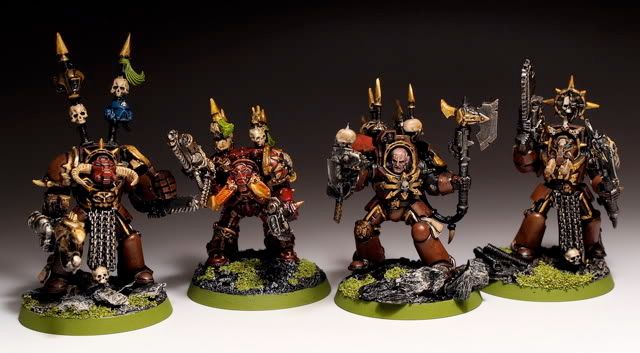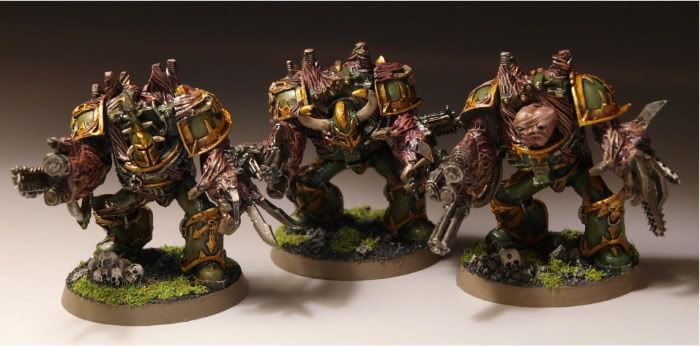 Death Guard Obliterators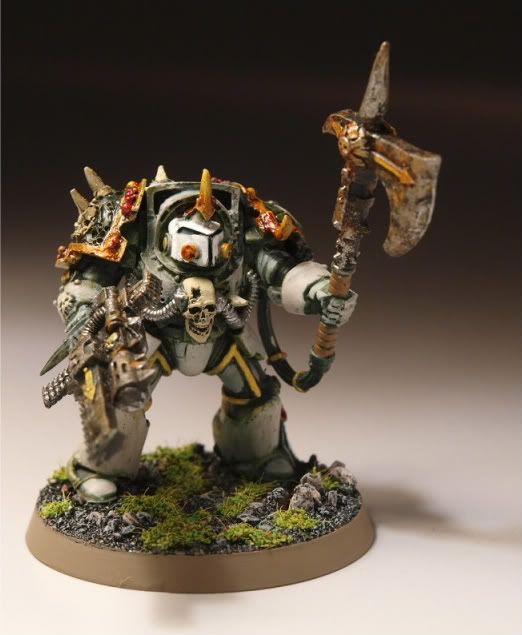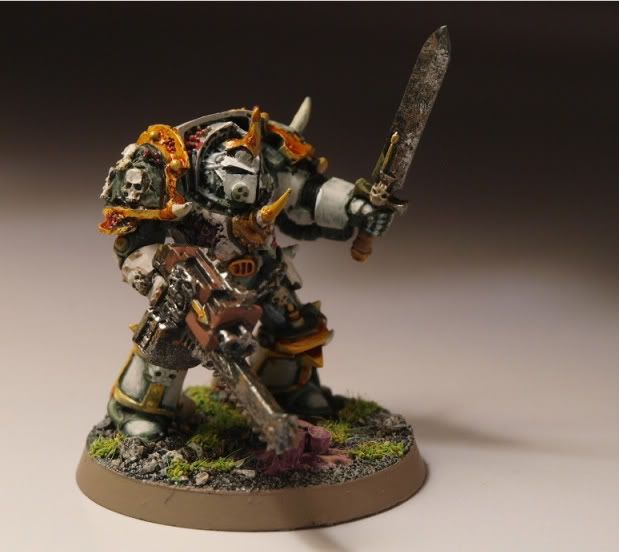 If you can't tell, I absolutely love Terminators. The models are why I paint Citadel miniatures, why I play 40K... Blame it on Space Hulk, I guess. I will probably never stop painting these guys.
HEAVY
Defiler "The Brass Crab"
Before the plastic Defiler model was released, there was an all-bitz model in the US Troll magazine. This is it, minus a couple of pieces. I love it -- and other players are terrified of it.
Venerable brother Bob, Banelord Dreadnought of Chaos, destroyer of the Templar scouts, eater of Kroot, stomper of Gretchin, and singer of the ballad of "Abbadon and the 7 maidens"...
DAEMON
Flesh Hounds - these make wonderful lesser daemons -people seem to be more afraid of these models than something more 'normal'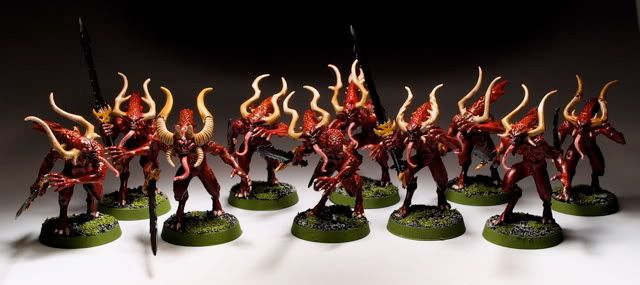 Bloodletters
My old "Bloodletters". Painted by Blue Table Painting - I think they did a great job!
FAST
I love these models, and will get more someday. (but the new SMurf jumpack marines look like they could be chaos-ified with wonderful result...) Mu-ha-ha-ha!!