So I thought that I would add a contents to this post, to make easier navigation to the pictures of finished models;
Beaten and Based Dwarf
Secret Santa Warrior Priest
Dark Elf Cold One Hero
Mage, ToP army about half done
Links to WIP Swordmasters P3 and 4
Completed Swordmasters
Chariot and Bolt Thrower
Completed Ellyrion Reavers
Completed Lion Chariot
Links to WIP Spearmen P6 and 7
Completed Spearmen
WIP Pegasus Knight P8 to 10
Completed Pegasus Noble
Secret Santa WIP P12
Secret Santa Emperor's Champion
Dead Terminator from Space Hulk
Half finished Eltharion the Blind P16
Wood Elf Noble
Empire Wizard
Ultramarines
Tau Ethereal WIP pics P17 and 18
Finished Tau Ethereal
Falcon WIP P18...
Finishedish pics of Falcon

Dark Eldar Succubus
Necron Overlord
Secret Santa, Ultramarine Captain
WIP Beastmen P22-24
Single finished Beastman
WIP Ar-Fienel P24-26
Finished Ar-Fienel
WIP Wight King P26-
Most recent pics of Wight King
WIP Teddy Fear P28-
Most recent pics of Teddy Fear
Step by Step Wight King Cloak
Paladin BSB
Little Axe Man
Finished Infinity Girl
Finished Dwarf Slaughter from Scibor
Since I intend on entering ToP 2 or 3, I thought I might as well set up a WIP thread so that I don't forget what I supposed to be doing. I can procrastinate more effectively on the interweb as well,
Calling it research, updating and refining techniques etc...
For ToP I'm going to do Elves, hoping to do all 1000 pts NMM but that could take too much out of me in the end (21 seagaurd in a month when 1 Sword Master takes several hours).
Anyway in the meantime here is a post of my first ever non GW mini.
He is a Witch Hunter guy from Confrontation, they have some really beautiful miniatures.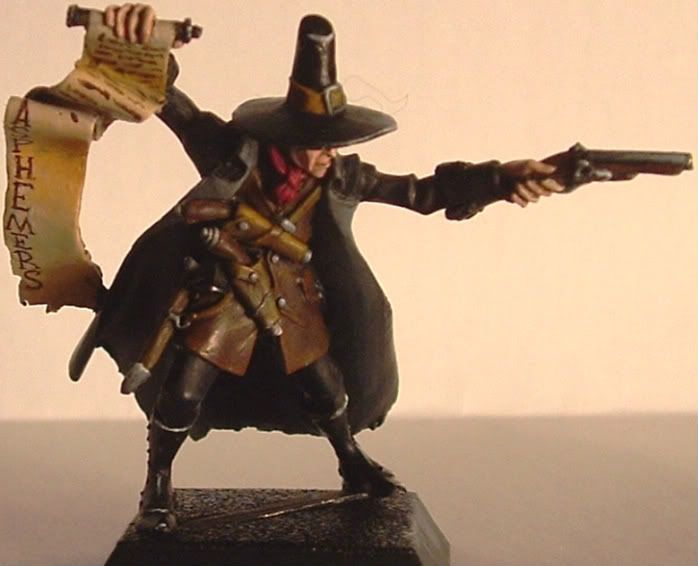 This is also a good opportunity to work on my photography, so let me know how to improve that as well as C+C about the rest of the miniature.
Cheers
More later...
Allonairre
Edit: Bugger the image is too wide, just rechecked the rule about 700 pixels, will try and fix it.
Fixed it