·
Paintwater cup != tea mug
Discussion Starter
·
#1
·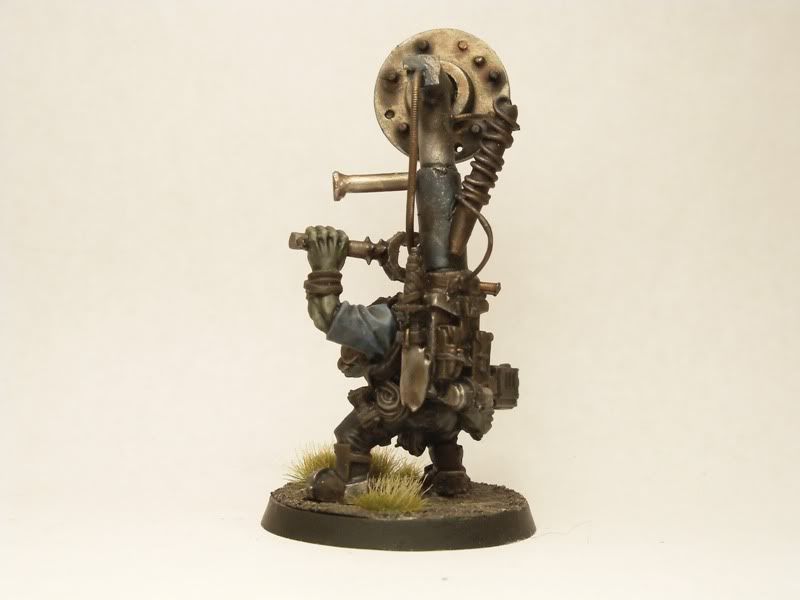 Originally an Ork Kommando, with the axe replaced with a wrench and a KFF built from plastic tubing, guitar string, floral wire, and bits of a DC motor.
A lot of experimentation went into this model. I'm not terribly satisfied with the results on the metal and leather areas- I think a wash + highlight would probably be more effective than the wash + wash method I used. Still, it's not bad enough to require repainting.
I wanted the focus of the model to be on the character, since he's supposed to lead my army, rather than the force field itself, so I used drab, dirty colors on the KFF, but more vivid skin and shirt to draw the eye to them.
As well, I realized that in order to keep the focus on the character himself, I'd need to do something with the face, so I gave him gem-like eyes that also received a coat of gloss varnish after painting.
And for color choice, I decided that my army will be primarily black/dark grey, with the light blue used as an accent color. To that end, I made the shirt blue. When most models on the table will have just a hint of blue in an armor plate or on a vehicle, the blue shirt and blue parts of the KFF (thanks to washes much duller/darker than the shirt) should point out that he's not just another rank-and-file trooper.
So all in all, I don't think it turned out badly. I'd rather not strip the model since the conversion work is fiddly, and there are things I'll improve for future models, but all in all I think it works.
And to show what else I've been working on: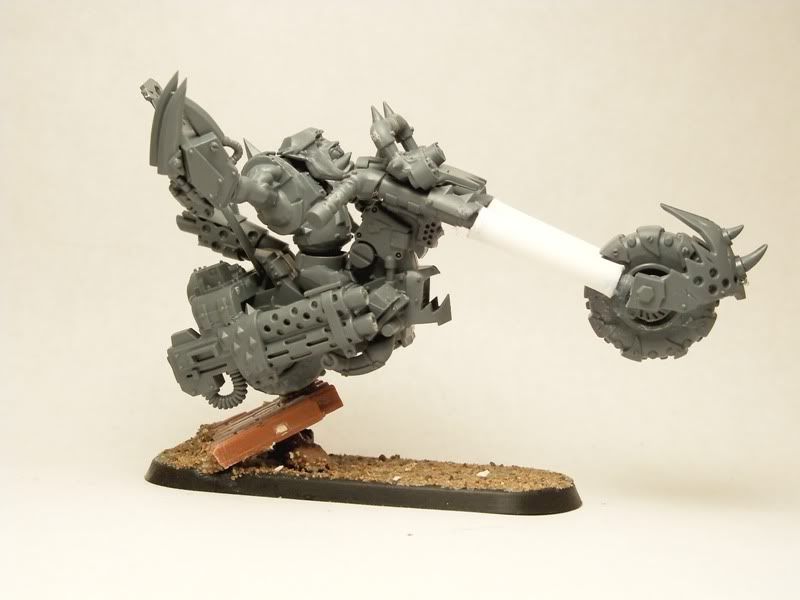 This model has just two conversions- I'm really in love with the Biker kit. The obvious conversion is the chopper-style extensions on the front struts. Right now it's just bare tubing, and while I'd like to detail it I think the usual Orky rivets might look out of place- any suggestions would be appreciated. The other conversion is the power klaw. The default piece is held close to the body- not good for a dynamic pose! So I snipped off the Klaw, and cut up the Biker arm with a chain, and glued it on. Easy conversion and no Green Stuff required, and I'm very happy with the pose.
As usual, all comments appreciated.