Took the Blackhawk Down IG list to its first showing with all models painted and assembled. It was a local 4 round Tournament. The list is:
HQ-
Company Command
-Straken
-Medic
-Bodyguard
-Regimental Standard
Troops-
3x Veteran Squads
-3x Plasmas and Demolitions
2x Veteran Squads
-3x Meltas and Demolitins
Elites-
2x Stormtrooper Squads
-2x Meltas and Sarge has Plasma Pistol
Fast Attack-
3x Vendetta Squadrons (2x ea
-Heavy Bolters all around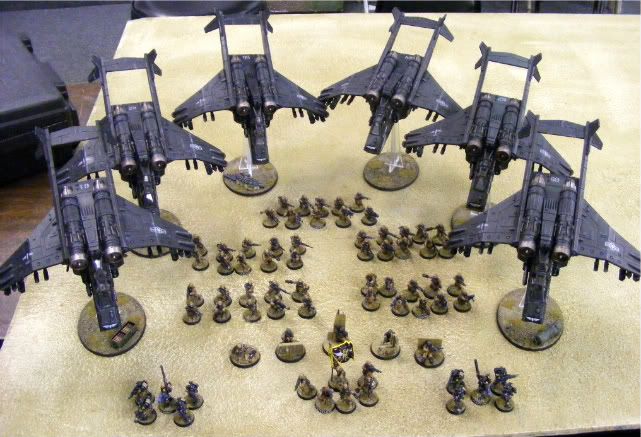 Assessment going in: I think I stand a fair chance from previous runs with the army. First turn is usually a sizeable factor and my opponent rolling even a little better than average with vehicle damage can change the flow of the game, but I've also noticed some armies simply aren't equipped to handle this build.
The field: 24 players and every army but Dark Angels and Blood Angels made an appearance. There was a traditionally high number of SM and CSM with some Orks mixed in. Also 3-4 more standard IG mech builds. Should be interesting.
Round 1-
I get paired against some vanilla flavored marines with fleeting TH/SS termies (could hurt)
Shrike
Lysander
2x scout squads (Snipers and Missiles)
3x TH/SS termie squads (a 6x man, a 5x mand and a 9x man for a total of 20)
Land Raider
Land Raider Redeemer (multi-melta)
Scenario: Dawn of war ish, the objective is modified Kill Points (1 for troops and Ded Trans, 2 for FA, Elite and Heavy, 3 for HQ) and you have to win by 7. Secondary is scoring umits in the middle of the table and not in transports, Can't recall Tertiary.
Assessment: Both of us are pretty light on KP even with the modifications, 18 for both. The center of the table and quarters are both doable, but will heavily depend on how invincible the termies are feeling (I'm sure we've all been there). Fleeting Lysander is a problem and a half.
He gets first turn
Turn 1
He moves on with everything fleeting the foot termies.
Deciding that trying to shoot through night fight is an iffy proposition, I moved all of my vendettas on Flat Out keeping them near the table edge.
Turn 2
As it turns out this was the right move, out of the 6x long range weapons in his army capable of hurting me 5 scored pen hits, I shrugged off 3 and lost and vendetta to 1. Really hope this isn't a pattern.
The vendettas respond harshly killing both raiders and knocking the 6x man down to 2. The stormies don't feel like coming out yet.
Turn 3
He advances where possible, but Lysander and his unit, through an 18" charge manage to just barely hit a Vendetta Squadron dropping both of them. There is a special place in hell for fleeting Lysander, this could dramatically change this game.
Both Stormies come in and I drop them next to Lysander, I'm going to need all I can get to stop this monster's rampage. Through combined fire of a vet squad and two stormtrooper squads, all of Lysander's buddies are killed and he is wounded with Straken standing next to him. Might as well charge, may get lucky. At the very least Lysander doesn't have enough attacks to polish the unit off in 1 round and Straken is fearless. Straken and his Furiosly Charging command squad put two wounds on Lysander while Lysander scores two wounds as well, but I use the bodyguards special rule to have him eat both causing Lysander to only deal 1 wound to the unit. I've got 1 wound over him and the Regimental Standard and Lysander rolls for his leadership…it's a 9, Lysander breaks and I don't catch him. He spends the rest of the game being escorted by the stormtroopers and eventually eats a heavy bolter round for his final wound. Shrike's squad get's whittled down to 2 models and the man himself.
Turn 4
Shrike and his 2 buddies are still capable of dropping 2 vet squads in melee (shocking), and the 2 remaining termies from the 6x man fleet far enough to hit the victorious Straken. Unfortunately Straken has burned through all his tricks to beat Lysander and these guys are feeling invincible. They finally drop the man of adamantium after 2 rounds.
Vendettas handle Shrike and his buddies and a Shaken one flat outs to the middle of the table with a vet squad.
The rest of the game is just my opponent trying not to get tabled. The last two termies finally fall to Las and Melta fire from a vet squad and one scout squad gets hammered by a combined volley losing everyone. He ends the game with nothing but a scout squad. I have two Vendettas from different squadrons and 3 vet squads still on the table. I get 17 Kill points to his 11 for…a draw, crap 1 KP away and my opponent only had 1 unit left. An impressive performance form the BHD IG that isn't born out by the final points. I Easily get the Secondary and I believe we drew on whatever tertiary was. I end on the good side of a draw with 20 out of 35, still not out of the running.
Round 2-
I get paired against a mech guard list, this might be interesting.
Primaris Psyker
Inquisitor Lord with large retinue and chimera
3x vet squads, meltas I think, 1 had Harker, 2 had chimeras
2 PBS in chimeras
Calidus assassin
3x separate russes (1 executioner with plasmas, 1 Vanquisher, 1 LRBT)
Scenario: There is an objective in the middle of the table that will scatter 4D6 immediately before first turn. Can't recall secondary and Tertiary. There is also a special rule in effect that allows both players to scatter an enemy unit 2D6 before the start of the game.
Assessment: First turn will be kinda important, the vanquisher could be a problem along with the various meltas, but I think I stand a good chance.
He gives me first turn (I'll give him plenty of rope if he wants to hang himelf)
Before the game starts we spend roughly 20 minutes trying to figure out how my scout moves, his "word in your ear" and the scenarios scatter rules interact. The end result in vendettas yo-yoing before the first turn even starts.
Turn 1
I like doing the Alpha Strike, but all the movement phu has really screwed any plans of most of the going off. The only exception is Harker's unit which has infiltrated closer to my army. I disembark a vet squad to deal with Harker and start shooting. Vanquisher get stunned (good enough) and a vet chimera blows up taking most of the squad with it. The unit promptly breaks and runs off the table. The vet squad I sent after Harker easily wins the combat thanks to Furious Charge from Straken and wipes them out in the sweeping advance.
Various inconsequential shooting (1 or 2 shaken vendettas). The executioner lands 9 wounds on the vet squad who go to ground in a forest. They still lose 7 guys (can I buy a damn 3+?)
Turn 2
Both stormtrooper squads are in and manage to land next to the executioner and a PBS Chimera thanks to Airborne Assault. The inquisitor's mystics roll well on their spotting roll, but the troopers just landed too far away. Murder continues as the executioner and PBS Chimera both eat meltas and go up in flames. The PBS loses 6 models to the explosion, but stick around. The vanquisher finally dies and the last vet squad's chimera loses it's multilaser.
Callidus isn't in. The PBS remnants charges and beats a stormtrooper squad (meh). The inquisitor squad fires 3 multi-meltas at a vendetta squadron that strayed too close and downs 1 (won't make that mistake again). His Primaris Psyker and Vet squad hopped out of their chimera and moved to the objective firing meltaguns at long range against vendettas and doing nothing.
Turn 3
Straken is now on the ground after losing his vendetta and advances towards the middle with the 1 member of the squad that survived the explosion and subsequent shots from the Leman Russ, his loyal Bodyguard. Another Vet squad disembarks and moves towards the middle. Through Furious Charge, they are easily able to take the vet squad with the primaris psyker and run them down. The other stormtrooper squad handles the PBS remnants. The inquisitor's Chimera is stunned and loses a weapon and the vet Chimera explodes.
Callidus is in. My opponent has a clever plan so deploys her near Straken. He uses the remaining PBS to lower Straken's leadership and fires the Neural Shredder. Straken then tosses the wound to his bodyguard and says "You're not getting out of it that easy". Stormtroopers are polished off by various heavy bolter fire. Callidus charges Straken and whiffs (I'm sure we all know the pain of 4's to hit and 4's to wound), straken then punches her for a wound and she passes her "no retreat" save. The Inquisitor hops out of his broken chimera and mows down the squad that wiped out his last scoring unit.
Turn 4
Vendettas close the noose wiping out the PBS chimera, the squad inside loses 6 models in the explosion and runs off the table. The inquisitor's retinue also takes some hits. The Callidus whiffs again and Straken caves her head in.
He moves the inquisitor's Chimera near the middle to contest and his last units shoot inconsequentially.
Turn 5
A vet squad hops out on the objective and triple plasmas the last chimera into oblivion. The inquisitor and his retinue all fall to concentrated vendetta fire.
The Russ desperately tries to do something useful.
Turn 6
The russ gets blown the hell up for the table
Max points wohoo, I may still be in the running. This is part of the reason why I don't remember what the secondary and tertiary were. Losses were surprisingly light, 1 vet squad and 2 stormtrooper squads. Every other unit had models left on the table.
Round 3
Get pared against 6x Ironclad marine list (One I assembled and painted for contract ironically enough). I'd be more optimistic if the scenario wasn't so heinous for me.
Master of the Forge W/ 2 Servitors
Libby
3x 5x man tac squads W/ Lascannon Razorback
8x man assault squad W/ PF sarge and Rhino
6x Ironclads, Heavy Flamers, Assault Launchers and 2x H/K missiles each
Scenario: Victory Points (not kill points) and win by 500. First turn is night fight (annoying), second turn is night fight on 2+ (problem) third turn is night fight on 4+ (good game)
Assessment: If there was a perfect scenario for him to beat me at this is it, VP instead of KP and lots of night fight is a serious problem.
The game doesn't really warrant a play-by-play as it went by too fast. We had all 3 possible night fight turns and he smoked at the bottom of 3 so turn 4 was no better. Outside of some amusing moments (Straken crushing Ironclads, Libby and assault squad Fleeing from a demo charge and an Ironclad failing to kill an immobile vendetta on the charge) the game was pretty much a rock throwing fest for me. He managed to eek out a victory winning by 515 points (so close). Not much to be done here, sometimes you just get good/bad scenarios for your army. I'm not sure a regular IG would've faired any better with 4 turns of crippled shooting. I only manage 1 BP out this entire mess.
Round 4
Get paired with mech Orks (interesting)
Gazghull
Mekboy W/ KFF
3x Battlewagons (2x W/ 20 Boys 1 W/ 10 mobs)
2x 12x man Boyz in Trukks
15x man Loota squad
Scenario: two objectives, control both for the win
Assessment: My opponent is anti-confident about his chances, but he's got more than enough speed to be threatening. Could be rough.
I get first turn (Hmm…maybe not as rough, I use my scouts move to set up a meltabomb charge on all 3 Battlewagons first turn)
He didn't seize the initiative, do I really have to go into how 20 meltabombs did against battlewagons that hadn't moved? At the end of my first turn he had 1 trukk with no weapons that was stunned, the army walking across the table against a hail of Heavy Bolter and Lascannon fire. He conceded at 4. Almost feel bad, but it's really is far too amusing to inflict the alpha strike on someone.
Max battle points again, not enough for a top three finish, but I still ended in 6th place out of 24.
Since this was the first time out for the BHD guard in a tournament, I'd also like to run through the units.
Vendettas- Not much to say, for the points these things are maddeningly good. Heavy bolters on them just add to the awesomeness because they cost almost nothing and allow you to handle infantry and armor alike.
Straken- While originally thrown in the army on a whim, he's proved decisive in enough games that I have a hard time taking him out. He made Lysander flee, murdered a callidus, dropped an Ironclad like a bad habit and Furious Charge proved decisive against the other guard army. He won't beat a fierce melee unit, but he's an unpleasant surprise against everything else.
Vets- Up to their usual selves, using and abusing demo charges and meltabombs. Demo charges have been such a high casualty producing weapon that I'm not sure what I could put in to make up for it if I removed them. The meltabombs have also proven pretty decisive. In general I'm happy with the performance of the units and their incarnations. It's likely they'll stay this way for the foreseeable future.
Stormtroopers- Sometimes they do useful things, sometimes they don't. In either case, most armies can't let a pair meltas stay in their lines and they have just enough armor that bolter rapid fires won't reliably kill them. Forcing your opponent to devote a mildly serious unit to bring down a 5x man stormtrooper squad has proven useful enough and they often take out a vehicle on the drop mitigating the loss of a KP.
Overall I'm happy with how the units work together.