·
ISIS Secret Agent Squishy
I was playing around in my bits boxes the other week when I found a Knight's torso amongst other Bretonnian bits (from quite a few years ago now).
So rather than work on my Ogres, I decided to convert up a Foot Knight. It's fairly easy really, Knight's torso,
[email protected]
command armoured legs, and that's the basics done, all that's needed is a head, arms/weapon and shield. Since I was in a bit of a creative mood I decided to see about a build for the guy. Unsatisfied with what I could come up with I made the choice to design my own Special Character.
After some consultation with Captain Sarathai on point costs and rules legitimacy, this is what I've got.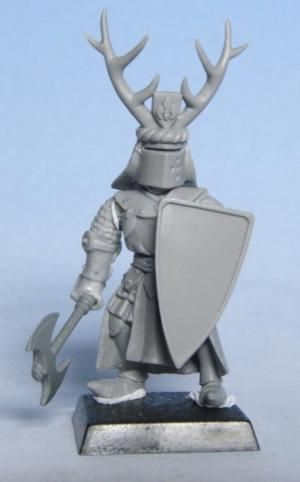 Boras Jerain of Gisereux
Boras Jerain of Gisoreux was born the third son of a very minor noble family, with little influence in the royal courts. A mere four generations has passed since Boras' great grandsire earned his knighthood and returned from King Charlen's Errantry War of the Border Princes, and granted lordship over an ancient fort in the shadow of the southernmost reaches of the Forest of Arden. Growing up a trebuchet's throw from the forest's edge, Boras and his brothers knew the dangers of the world well before they came of age, and learned the ways of war amongst it's verdant branches.
With few knights in residence and an excess of peasants to work the land and keep the forest at bay, the Jerain family depends largely upon these commoners to patrol and guard their demense.
It was beneath the towering columns of the forest that he learned the madness that is pitched battle, hunting down the small bands of foul beasts that frequently threaten his family's holdings.Although a great number of knights would find it abhorent, Boras is as comfortable fighting on foot as he is astride his charger, and has lead men-at-arms against the enemy like so. Although trained in the use of all knightly weapons, Boras has demonstrated a clear affinity for the axe, able to split a beastman from collarbone to kidney with one blow.
Code:
Name             Mv     WS     BS     St     To     Wo     In     At     Ld     Sv     Cost
[U]Boras Jerain[/U]      4      5      3      4      4      2      5      4      8     3+    140
Composition: Hero
Knight's Vow
Hand Weapon
Heavy Armour
Shield
The Splitter
- Magic Weapon. Armour Piercing. In Close Combat, Boras Jerain may re-roll any dice rolls of 1 To Wound.
Staghorn Helm
- +1 Armour Save. One use only; Counts as stubborn for the current combat, regardless of the number of game turns it lasts.
Virtue of Benevolence
-
Boras Jerain is fielded on foot
. Peasants within 12" may use his Leadership, rather than normal 6" and may re-roll their first failed Leadership test.
Boras Jerain may be mounted on a Barded Bretonnian Warhorse for no additional cost, however he loses the Virtue of Benevolence and he may only join a unit of Knights Errant, which will automatically pass their first Impetuous roll.
Total Cost: 140

Boras Jerain may not be upgraded to the Battle Standard Bearer, but may be the Army General.