·
LO's Resident Time Lord
Hi all:
I realize I've lagged behind in a lot of logs I started, and these days my painting adventures have meandered all over the place, so instead of trying to keep up with multiple logs, I decided to start a new one that's more general-purpose.
About six months ago, I moved into a new house, and it took me a while to even set up a new painting rig, let alone tear time away from my long commute and various homeowner's responsibilities, so I've been uber-slow to catch up on my hobby stuff.
I don't have any new pictures to offer yet, since I can't figure out what I'm doing wrong (I use daylight bulbs, macro mode, no flash, all the suggestions everyone says I should do), but they're not as quality as I'd like them to be. I think I need to move them closer to the camera, and maybe move the lights further away.
But just to kick it off, here are some past images I took before the move. First, a group shot of my Necron warriors. I like how these guys came out, but my expansion into the monolith, Tomb Spyder and Immortals has led me to paint in some gold. I'm slowly changing all the shoulder pads (even these guys) to have a matching hue to tie it all together.
But for now, here are my metal men!

Pretty basic, I know, but they're done, aside from the shoulder pad makeover I'm planning.
Also in the works are the Avengers of Dyeshr, my custom Space Marine chapter. Basically, I liked the "dusty" look of the Deathwing, but rather than a blatant rip-off of that, I thought "Hmm, what if I had a blue base instead of brown?" This prompted the following: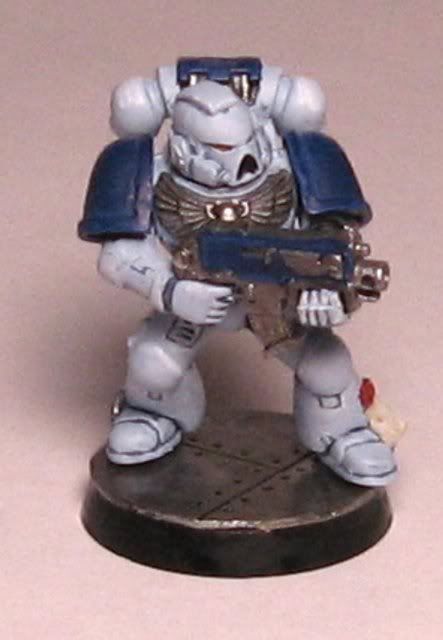 I'm overall very pleased. The shoulder pads came out better than I expected, but someone at a local store suggested I shade the wolf grey better, and since then my entire project has been held up as I have slaved over trying to find a way to shade them. I've discovered that a good "shadow" color is a 4:1 mix of VGC Wolf Grey (same as Citadel's Space Wolves Grey) and VGC Sombre Grey (same as Citadel's Shadow Grey), but how to go from that to pure Wolf Grey without it looking striped or "two-toned" has been... challenging. I already had to put five test models (yep, FIVE) into the Simple Green in frustration, but I think I've finally figured it out. I'll soon be posting pics of my sprue-based experiments, hopefully over the weekend.
Finally, the gf meant well when she bought me the Assault on Black Reach set, but now I fear I've been bitten by the Orks, and may just have to, ahem, "try out" painting the Orks in that box set, too.
To date, I have nearly 1,850 points of Necrons I am trying to finish off, then I have well over 1,000 points of marines (working up to 1,850 points too), then the Orks in the AoBR set and *sigh* probably more of them too someday. :sinister:
One more thing: I also have about $100 US in Cygnar, with some mercenaries too. I'm painting my first PP miniature EVER as well, and am working on getting good pics of her to post.
Comment welcome, as always.