Discussion Starter
·
#1
·
I really hate the chaos terminator mace power weapon, so I decided to make my own Grey Knight-ish inspired weapons. soo here they are!
For this one I just hacked off the top of a power sword and replaced the mace.
And for this one I removed the bayonet from a terminator reaper autocannon.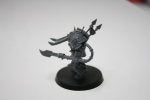 Tell me what you think!