Discussion Starter
·
#1
·
Considering working up 10 wraithguard for a small Iyanden army recently, at least until I found out that they were 18CDN each. Feh! I'm not paying two bills for my basic troop choices!
Hence, the wraithguard conversion project was born.
Objectives:
- Keep the cost per model to 13CDN or less in bitz, preferably 10CDN or less
- Create a low-tech look
Draft:
Head - Chaos skulls with guitar wire coming out of the back, plus this for the body: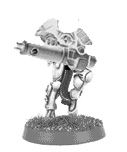 Thoughts, suggestions?