Hi guys..
Found out about a month ago, that there's a GW tournament in Scotland called Conflict.
This tourny is due to April 19th, so that leaves me with some time I can figure out most of this stuff, and get it ready, and since I'm staying for the next semester as well, I thought I might join in on the painting/modelling competetion.
First off, I'll be doing a SW 13th company army. The tournament is a Dual, So I'm partnering up with a Imperiel Guardsmen.
The project for my Marines is to add more beastial features to them, and add more conversion to them, then already done. Atm, i've only posted a few pictures, but the army is done as far as the number of models are concerned.
Second. I'm considering having my Deamon Bull finished off, and entered as well. I do not know how many categories I can enter, but I'll figure it out.
Third, and most importantly. Diorama.
When I first heard of this tourny, I wanted to go Vampire/Dark elf, with an all converted Ghoul army. Led ofcourse by a Strigoi. Since then, I've joined 40k instead, but my idea for making a Strigoi had planted seeds in my brain. So for that. I'm doing a Diorama just a bit smaller then a A4 sized paper.
Concept/History:
The Adventuring Party was on it way to urgent matters in the far east, when they stumpled upon the Village in Tilea. The village was in ruins, and the townsmen were afraid. After the party had spoken to the people, the oldest asked them for help, for rescue.
A Strigoi had risen, and gains power in the area. Strong enough to tear a house down with a single blow, they said. Big enough to crush a person in one hand.
The Townfolk had asked the adventures for help, for rescue. And they had offered their riches for it. While it wasn't much, the party was still greedy enough to accept the challenge, and seek the woods for this beast of an undead.
With added supplies, the party went to the forest. While it was more of a marsh, then anything, They did not find any tracks or traces of this Beast. But He had found them.
Basically, the Diorama will be showing this: Strigoi, Adventure party, 1 Villager with a horse and supplies, Bon fire. And Lots and lots of ghouls/bats/wolves. All in the marsh.
Sketch of Diorama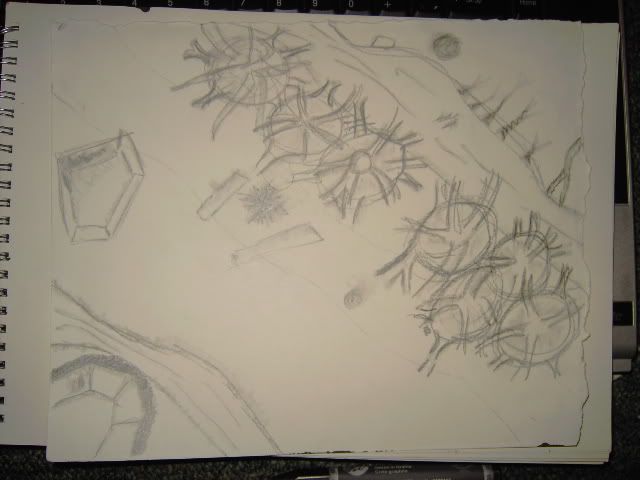 Foam sketch. I'll add some filler to the edges, and repaint the frame in darkbrown colours, to match the theme.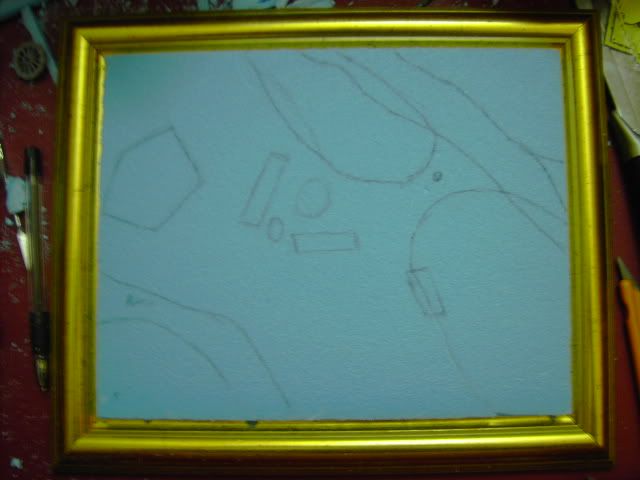 Strigoi. Made from the rat ogre from the Bell, with giant hands. The head will be based on the Deamon Prince head, without the horns, mind you.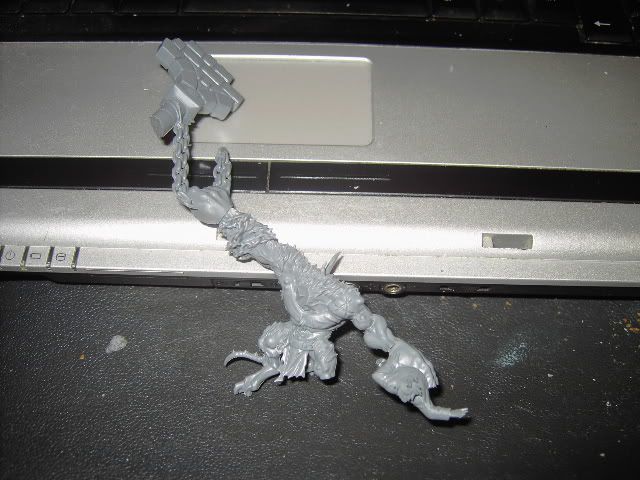 I have done some filling, and angled the hand with the peasant a little, as well as pinned him in the leg.
The diorama with the party pinned in place, and added small rocks. I have cut two streams of water out aswell.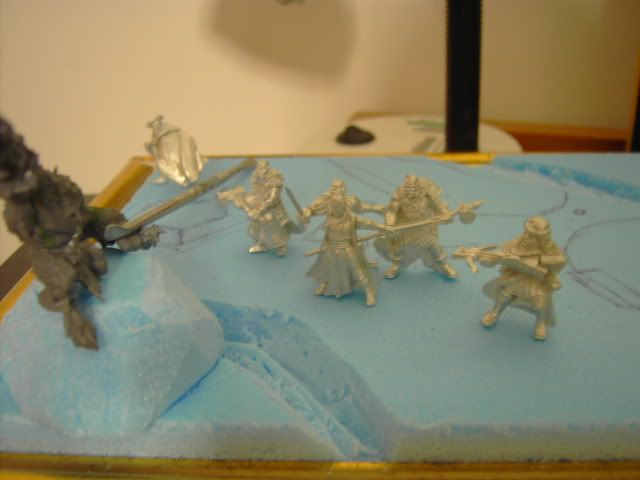 Overview of the diorama. I am in the making if 2 groups of trees, behind the adventure party. Bought 2 boxes of GW trees, and will use 5 of them for this.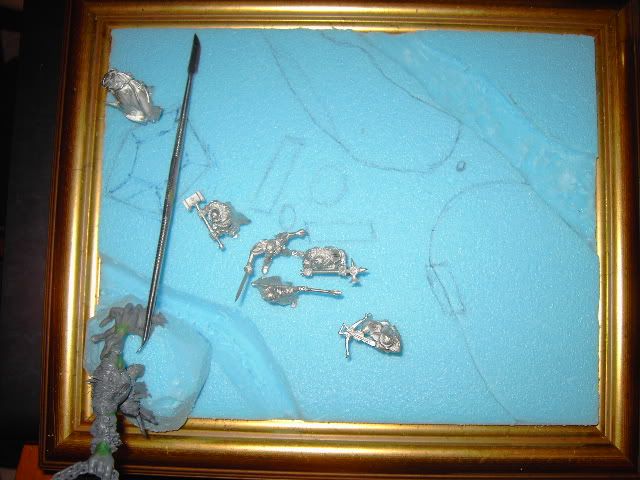 More to come.