Hello all.
Ive been looking around at some of those old tierd looking painted markings on roads and such recently and really had to have a go at somthing new and different. I imagined a industrial city or perhaps the inside of a space craft, most likely a landing or loading area, with markings, rivits and lots of wear.
My Imagination got the best of me, along with Camel-aid and Jons unoffical painting contest!
Tools!!
In this tutorial I used.
A range of Citadel paints
A range of oil paints
Thinner (High grade white spirit)
A sharp knife
Sponge
Scissors
Masking tape and Selotape
Matt Varnish
Colourless art masking fluid
Chaos black spray
Hairdryer (optional)
Most of these pieces are available from Gamesworkshop or any leading art and crafts shop.
Here is the base to begin with along with the model to be based upon. The base was a normal 40mm large base, with plastic card over the top to give a smooth surface, I decided to have an area where a few plates met, with edges on. I also added some small details in the form of rivits, I robbed these of spare pieces lying around. All sorts of vehicles have lots of rivits on, you can carefully trim them with a knife and stick them in place. This can be rather fiddly but looks good!
As Im going to be doing alot of work on the base, I thought it best not to stick the model to it before painting.
I gave the base a spray coat of chaos black, then in my example I chose a base coat of mixed Iyandan dark sun and Bleached bone, for some yellow internals of a space craft.
Between painting layers of the base, I frequently used the hairdryer to speed up drying times of paints, varnishes, oils and masks, it saves time and allows you to get on with the real job!
Then a barely visable highlight was drybrushed to the base, mainly around the edges. I simply added more bleached bone to my origanl base coat.
Now the fun begins! Begin with the masking tape and mask of a small parrallel area. Ensure that the edges are pressed down tight as you dont want any paint leaving this area!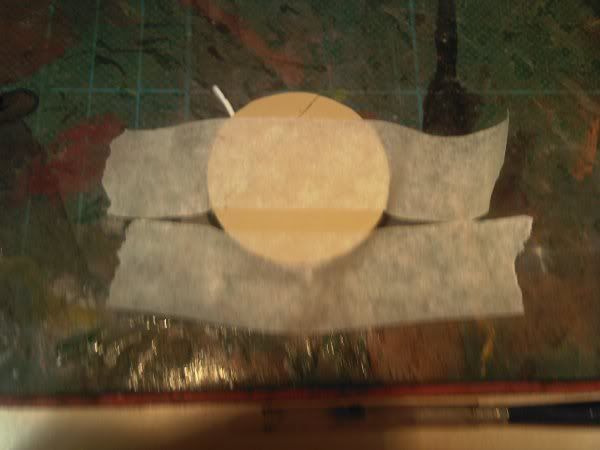 And apply a amount of masking fluid to the area with a sponge, try to create a realistic weathered feel. Try to concentrate this around the edges of the line.
I next painted a line using mechrite red over the area once it was fully dry.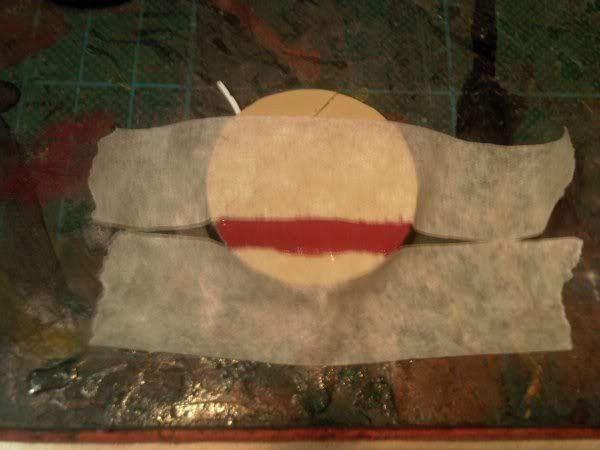 Then, once dry, I removed the masking fluid. As you can see in this picture Ive not used enough, nor concentrated enough around the edges. Silly me!
So I removed the masking tape and sponged and freehanded some more scratchs on there.
Here comes the sneaky bit!
I went on the PC and, in Arial size 30 bold, I printed of 2C. roughly cut it out and put it on my cutting mat, then covered it in selotape.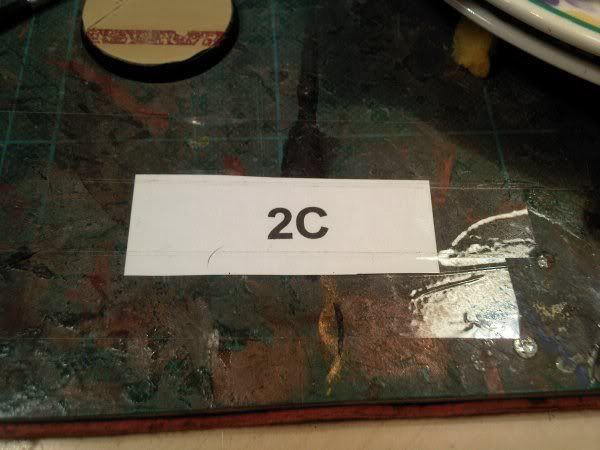 The reason for covering it in selotape is that if you put the masking tape over the paper, even though its low tack, it might still mess up the paper.
Then, once this is stuck down nice a smoothly, add the masking tape over it, again, ensure its smoothly on and free of wrinkles. I then VERY carefully cut this out and removed the masking tape from the matt, which came of easily because of the selotapes glossy surface. Dont pull it too quick because you dont want to tear the masking tape.
Now, apply this to the base, ensuring that its positioned evenly and in line, use the other end of a paint brush or similar blunt object to press the edges down just like with the masking tape before.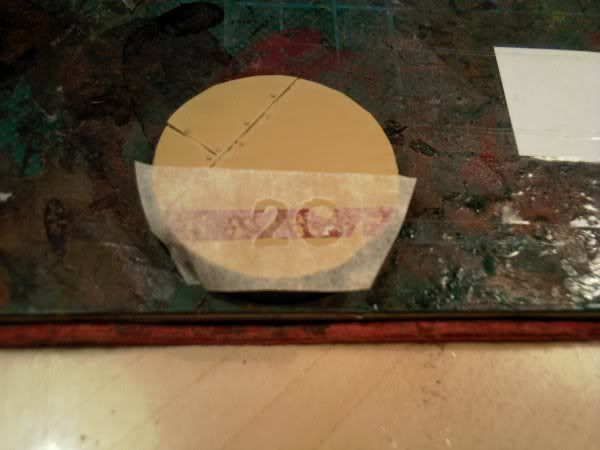 Again, add masking fluid, applying as before, with a sponge. Then once dry, paint and remove.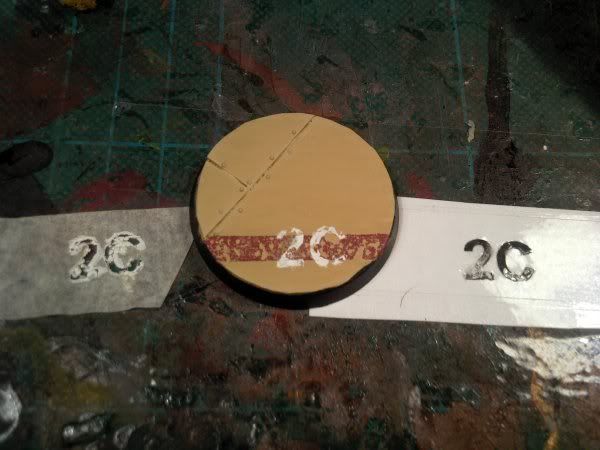 I then went around the edges of the base with a 80:20 mix of scorched brown and chaos black with a sponge to create some rough scratchs and scrapes.
Next apply some varnish, I chose to use brush on varnish as it was quicker than waiting for a spray one to dry and it was cold outside!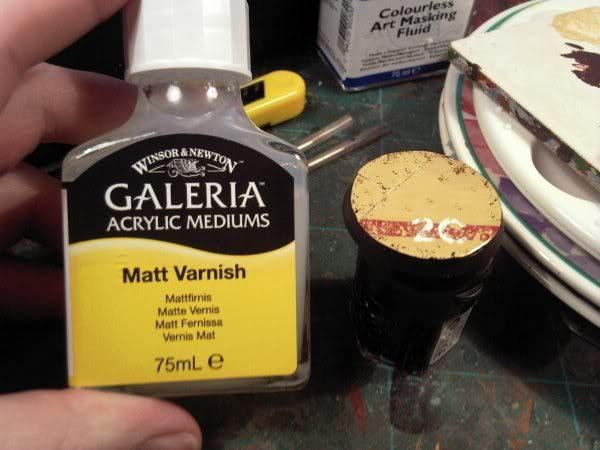 Make sure this is really dry before going on to the next stage.
I mixed up a wash of raw sienna with a large amount of thinner (20:80 should be fine) and gave the whole base a light wash. I dipped the brush, whiped it clean and painted across the base to make it appear wet, but not painted. This is called filtering.
After the filter was dry I then added heavy washes of oil paints to the model, the gloss varnish helps the washes flow with capillery action, concentrating around the rivits and recesses. Oils washs are much better than the other washing forms as they can be added to, blended and even completely removed with further thinner. After several layers and slight mixes, the base was complete.
I then added the final model and sealed with varnish.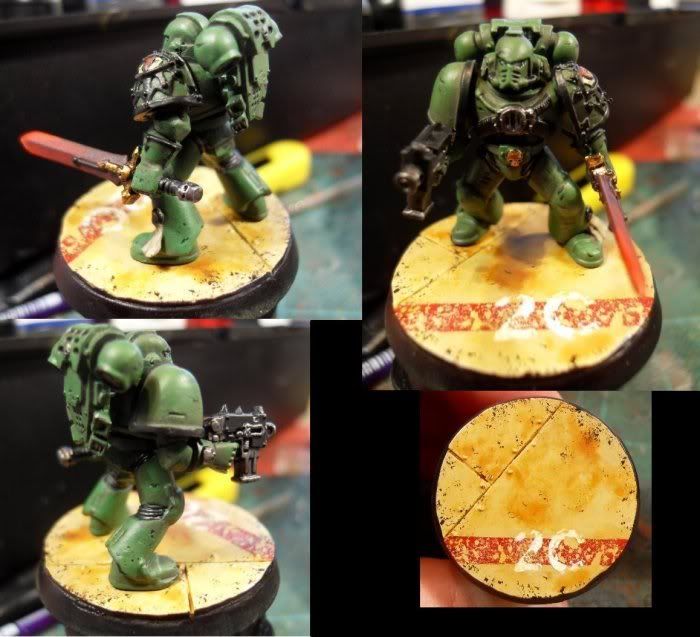 *EDIT*
Instead of using the masking fluid you can replace this with salt and hiarspray. Spray the hiarspray over the area to be masked and then sprinkle salt over that. Once painted over the salt can be removed by lightly rubbing it with a cloth. It might save you all a bit of money.
**
Questions and C+C are more than welcome!
Hope you enjoyed it.
Dan