Discussion Starter
·
#1
·
OK, Well, first off this wasnt supposed to happen. I got in this evening from work and the gym then went straight to work spraying the monsterous amount of models Ive done recently (Land raider crusader, two land speeders, ten Iron warriors style Plague marines, a terminator captain with combi plasma, a forge world tech priest and finally a Hell blade.).
I sat down and browsed the net for a short while and heard a soft whimper from a box at the side of my desk. I opened the box up and inside found an unloved defiler, it was upset that it couldnt have any plasma weaponary mounted on its chassis. So, I decided that the little spider would turn into a mighty scorpion powered on a enormous plasma reactor sticking out of its back and that he was going to be the envy of all the other defilers in the playground.
So a little inspiration from Lemmingspawn at WIP forums
http://img.photobucket.com/albums/v621/tamanade/Iron Warriors/DSCF4360.jpg
And some from Throbbing Gristle (what a name!) at Emperors children
http://i139.photobucket.com/albums/q307/Shinkicker84/Guntail2.jpg
And here we are so far
scorp1.jpg - Image - Photobucket - Video and Image Hosting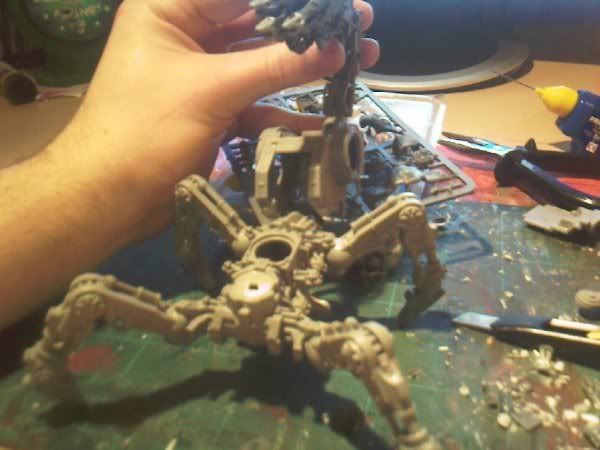 The model is going to have a big plasma coil mounted in its back with some plastic card housing around it. There will be 'eyes' on the front like Lemmingspawns awesome defiler and an underslung demolisher cannon. The scorpion cannon will be fueled on plasma (Loss of strength and AP due to the rapid firingness) which you can see above.
First question, how should i set up the scorpion cannon? Should i have the bottom cannon the furthest forwards followed by both sides and then the top one or another way round?
Dan