Discussion Starter
·
#1
·
Well after I posted my thread about motivation it has happened. I read all your comments, looked at a lot of pics, read a lot of articles and I am now motivated to start painting my Deathwing Terminator squad. These pics are just to kick off the starting process. I got all the models set out and my paints and table organized. I started painting one of them the other day so you all can get a basic idea of the paint scheme.
Lets start with the table set up and work area: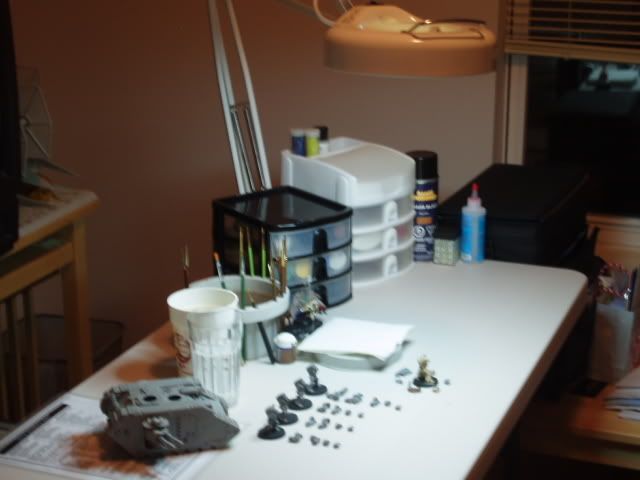 A closer look at the area. Those are the 5 Terms that will be the theme of this thread. I am actually going to use magnets on the Assault cannon/heavy flamer arm for versatility. The Land raider is not currently on the plate for painting but will be later....way later lol. Oh and that is my Belial model in the background, I keep him out for inspiration too.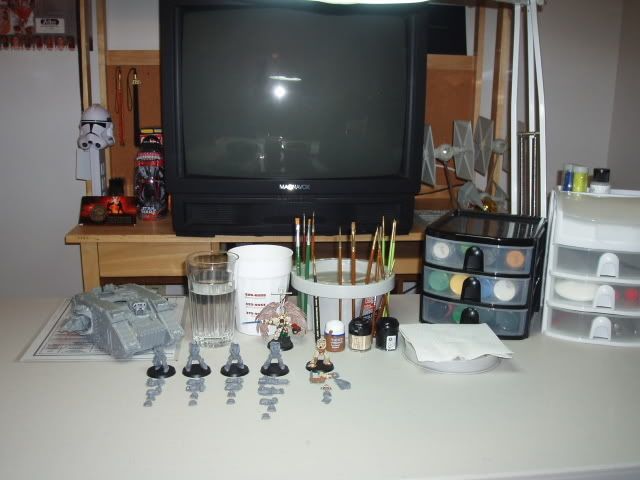 A look at the D-Term Captain that I started. I found that the foundation paint works just fine as my basecoat. I am using Calthan Brown. For the first coat on the armor I am using a mix of Calthan Brown/Bleached Bone. I mixed it approx 25%Calthan/75%Bleached. I just mixed it right in one of the bleached bone bottle and it worked out awesome for consistancy on all the models and longevity of the paint mix. I will then do all the highlights with 100%Bleached Bone and Skull White (highlights not yet added in photo).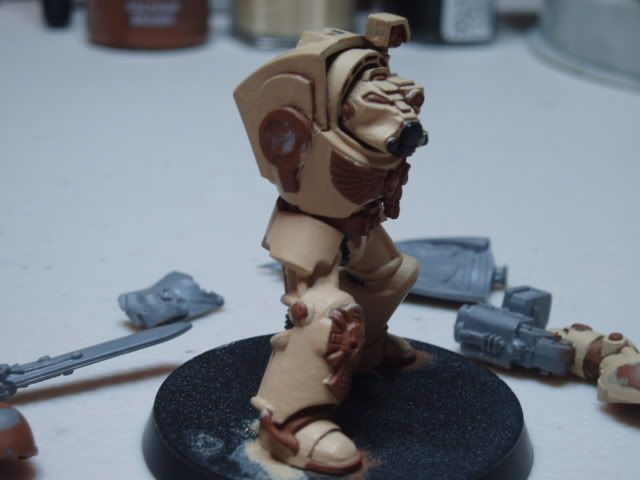 So, I will most likely get started on the basecoating this weekend sometime. I am going to paint all of the bodies first start to finish. Then all of the power fist arms with shoulder pads. Then all the storm bolter arms with shoulder pads. Finish them all off with the bases. I know to some its unorthodox to do bases last but thats how I started doing it and it works for me. I will update as often as I can, and I hope that you guys enjoy the project too. I am really looking forward to it.
As always comments welcome