·
Keeper of Records and Ale
It has come again. The annual UK LO Meet. This time it is out 6th year! SIX! (I've been to them all so far. Where you slackers been?!) It is being held on
Friday 6th August - Monday 9th August
. For those who have not been before, it is a free event for the members of LO to meet up at WHW and get a few games in with one another. It is a fun and very laid back weekend. So, you do not need to come for all the weekend to enjoy yourself! Now, in the past we have had booking problems with events taking place during the weekend we have been there. This time though, I have checked and it is set as a 'Free Gaming' weekend. So, there should be no problems there.
As to what to expect...well.
MADNESS!!!
Aside from that though.
(Kuffy with a voice perhaps?)
. There will be chances for you to play almost any GW game. The members who turn up have been sited playing; WFB, 40K, Blood Bowl, BFG in previous meets. So, anything along those lines will be fine. As to armies, we hold no restrictions on what you bring - but bear in mind this is not a tournament, so gearing your army for one is pointless. Neither do your armies need to be painted, the bear minimum GW use to allow was undercoat, but I do believe they have been wavered now and as long as its assembled, it should be fine.
In the past there have been Apocalypse games. If members wish to participate or hold one, then they are to do so under their own plans. The meet is not officially holding one, it is up to you should you want to play in one. The same goes should a group of members wish to run a mini tournament. This is perfectly fine, as long as it is not too strict, tasking or offering a cash prize (gambling is a no-no folks!)
Those who have previously attended will be pleased to hear that the raffle shall return! Tickets will be on sale from Friday (as soon as I arrive) for £1 a strip. Like all other times, the raffle pays for itself. The more money you all put into the kitty, the more and better prizes we shall be giving away!
Once again 16 and 17 year olds are welcome, but anyone younger will not be allowed to rmain for the weekend without parental/guardian supervision. It should also be known that anyone between the ages of 16 to 17 might get left out in regards to events that are held in the evening. People will often split off into groups and go for a meal or a few drinks in the evenings in Nottingham City Centre, so anyone of those ages needs to be aware of this.
As of the minute, there are no evening events planned. People are free to plan their own evening entertainment. There are a number of decent places to eat and good pubs within Nottingham Centre.
Just another point I would like to make about those staying for the weekend. It would be very handy if either myself or another member of LO had a contact number (mobile/cellphone is ideal) incase you either get lost or there is no one around you recognise. PM your number and I'll give you mine so you at least have one contact. Also, it would be helpful for those who arrive at the hotel to go as a group, taking any new attendees to WHW. So, please if you can, go as a group. Its safer and more fun.
And now for some details......
So hotel locations used by members in the past. Please note that most will be staying in the Gresham hotel, so it is an ideal place for you to stay.
Premier Inn. Castle Marina
Gresham Hotel
There might be others, I know Sir Theo has always stayed somewhere else (bloody git.
).
And now. Directions.
This is a map which shows you how to get the WHW. Please forgive the childish scribblings on it.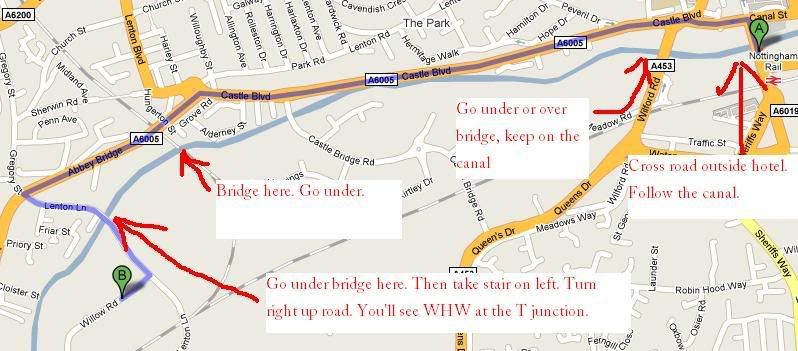 And this, if you are unsure, is where you are to cross to to start your journey.
Any questions/problems etc. Post here or PM me.
Kuffy