Discussion Starter
·
#1
·
Hey there guys. I've been cruising around this section and decided to throw my hat at posting some pics of my guys. I need a bit of motivation to get them finished up because I am now tempted to start a night goblin list. The game-plan is to top off my 2500 list before the summer ends. So I will start things off by posting some pics and we will go from there. I think they turned out pretty good. I am not great with lighting in pictures but I think the Arizona sun did the trick.
Here are some chosen. I wasn't cool enough to make awesome conversions though.
Here's the straggler. Still needs some finishing.
Your run of the mill warriors. I still need arms on a few that didn't make the pics and still need basing on about half of them.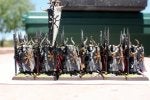 Exalted
My Sorcerer Lord on a disk. Who said sorcerers need a staff or stick?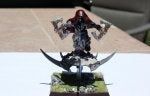 My Chosen's unit filler. Still needs some guys to put on it. Almost done with one of them. What's LO's policy on models with nudity?
How do I make this monster thumbnail at the end go away?