Discussion Starter
·
#1
·
How this came to be:
So, I am going to a tourney this coming weekend. And rather than my regular list I wanted to try something different, so I threw in 3 Sternguard Vet squads as the heart of my list. I usually use Shrike in my marine lists, but figured I would try something different. Looking through the dex I figured Pedro would be a good fit. Knowing I wouldn't have a chance to pick him up in time (the closest store that *might* have one if 1 1/2 hours away) I got to looking in my bits box and started pulling pieces.
Mostly, his pieces came from a Heavy Bolter trooper. The eagle heads are from a spare commander backpack as well as the cape from the commander sprue, the power fist is from the devastator sprue (I think), the stormbolter came off of a plastic terminator that became an obliterator conversion.
The pics are rough due to the fact that they are courtesy of the camera on my phone. Anyway, here they are.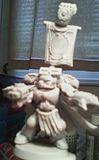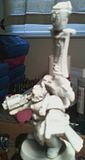 Paint will probably go on in the next couple of days. And yes I know the fist and the bolter are switched, but that is the side the HB ammo feed comes out on.
Have a great day,
TZ