Glosscoated these for a wet, slimy look.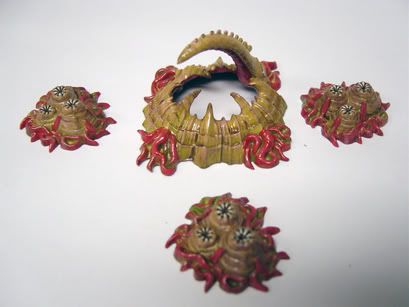 I'm waiting for my pin vice to come in the mail before I mount this guy and clearcloat the whole thing, so hes a bit shiny at the moment. I'm not completely happy with him, especially the sword blade. Considering just scraping the paint away on the blade to just have the bare metal showing...could always put more paint on it. I copped out on the eyes and made some warpaint instead. Doesn't look horrible though, so I guess I'm happy with that. I like how his skin came out, I think Rackham makes the Kelts way too light skinned considering they're half naked barbarians. I was going for a Native American fleshtone. My first ever cork base.
They're pretty hi-res shots, you can zoom in if you drag them to your own computer and view them.