After reading so many different threads on what product to use to strip paint of plastic models, I was getting a little confused. People's results even with the same chemicals seemed to vary wildly. The most common, Simple Green, is so rare in the UK as to not be an option and even with that peoples results varied.
I thought I'd run a little experiment. I'd just bought a load of marines from ebay, they were absolutely caked in paint and needed stripping. They were also old and cheap so if I melted a few I'd not be too bothered.
For my experiment I chose five different chemicals I could find around my house, well I went out an buy some ultra cheap multi surface cleaner as close as I could get to the one used by leighjt in his tutorial. Into a jar of each chemical I placed 2 or 3 miniatures, if possible something plastic and something metal
These were the results of the first attempt:
First off the brushes I used, an old toothbrush, a new stiff tooth brush and a wire brush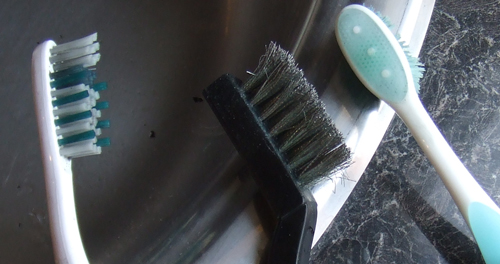 Vodka
Pilot00 suggested alcohol, he specifically said the type you get from the chemist, but I thought I'd try Vodka anyway. As you can see it did not work in any way. Lets just call this the control, an example of what 24 hours soaking in a non melty liquid and some vigorous scrubbing can do. I should have known vodka has no effect on a space marine, its right there in the fluff!
Foaming Oven Cleaner
Problem here seemed to be, after the foam died down the model was not actually soaking, so nothing much happened. Better than the vodka, but would still take many many attempts to get most of the paint off.
Cheap Multi Surface Cleaner
This result came after two soaks and some very vigorous scrubbing. Not bad though considering its by far the cheapest chemical here. Still bits in the cracks, which is unfrotunatly exactly where I was trying to remove it from, so a spray prime won't obscure the detai.
Expensive Multi Surface Cleaner
Again, these results are after 2, actually I think 3, soaks and scrubs. I even used the wire brush, but the results were not bad, still bits stuck in the recesses, and the bits I can't easily scrub are impossible to clean. Overall no better than the cheap cleaner really
Cream Cleaner
Right, I thought cream cleaner, that should do the trick. Adverts give the impression that the thicker a chemical is, the better it cleans, and this is the premier football player of cleaners, nice and thick! The results however were nothing to write home about, worse than the thin cheap cleaner anyway (and a darn sight smellier and itchier). Metal mini came up shiny though...
Then I remembered someing Lani Guy said:
TEMPERATURE affects the ability of SImple Green. At temperatures of 70F+ it works awesomely, I am now in cooler/winter temperatures of 30-45F and it does not work well at all.
So I thought I'd try the cheap cleaner again in the airing cupboard. Thats not much warmer, not like a radiator, but a couple of degrees. I wasn't expecting much, maybe one less scrub needed or something. I took it out early to have a look too. Now these reults are after less time and with only one light scrub and no redunks. I'm impressed.
I thought I'd give a close up of all the nurgle attack goodness
So my conclusions:
The chemical is no that important, as long as it is a surface cleaner. Don't stress if you can't get Simple Green, any dirt cheap cleaner will do

The more you can break up the miniature the better it will work, partly because scrubbing is easier

Surprisingly wire brushed don't damage plastic miniatures that much

Temperature is very important, we're not talking huge jumps here, just the difference between a window sill and an airing cupboard

You still need a needle or something to clean out the recesses

Leaving things overnight is always best

Space marines are always better if they smell of lemon
NOw time to see if I can scale this up and whether another dunk in warm cleaner will get the last bits of the final test models.