Hi all, a new blog from good ol´ me. I wanted to do Skaven for a long, long time, and found myself looking at their armybook and models during the past years ) even during the last armybook, simply because their fluff was in-flipping-credible. Now that the new armybook has come out, and 8th edition rolled in, 5 or 6 people around here have Skaven too. 2 of them big armies I've seen, others are planning to. Regardless I wanna build a skaven army now, because the oppertunity was offered to me when 2 different people wanted to buy Island of blood with me and give me the Skaven. That's 80 clanrats and 4 rat ogres for 60 euro's. Seeing as a box of 2 rat ogres costs 30, and 20 clanrats cost 26, that's a heck of a deal.This is roughly what I want to start off with:
30 clanrats with handweapons
warpfire thrower

30 clanrats with spears
warpfire thrower

30 clanrats with spears
poinsoned wind mortar
( yes, that's 90 rats. One of the skaven players asked if I had a poisoned wind mortar for him left. Though nice, it's not my favorite weaponteam so I have no trouble parting with it. In return I could get some bitz and about 10 clanrats )
6 rat ogres with 4 packmasters
( this unit will possibly be 5 rat ogres, and 1 warlord on rat ogre bonebreaker with some killy equipment including "the other trickster's shard", forcing models in basecontact to reroll wardsaves )
1 chieftain, BSB.
1 warlock engineer with doomrocket
1 warlock engineer lvl 2
And that's what I have envisioned so far, we'll see how far that goes.Without further ado, my first rat ogre assembled and greenstuffed. I sculpted some extra bandages on his arm as I like the idea and look and they are easy to do. It also gives me another spot to get the armycolours on the rat ogre if I wish. It took me a while to find a good colourscheme and I tried several. Red & catachan, purple, it just didn't work. I helped my local GW to finish all their clanrats for their intro table so one of the staffmembers gave me a clanrat ( thanks man!
) so I could try out a colourscheme and how it would look on the clanrats. My first attempts were on the packmasters I had, but they've got huge robes without a lot of folds and it ends up looking like a single colour dress, not very pretty. The clanrat looks excellent in my opinion
.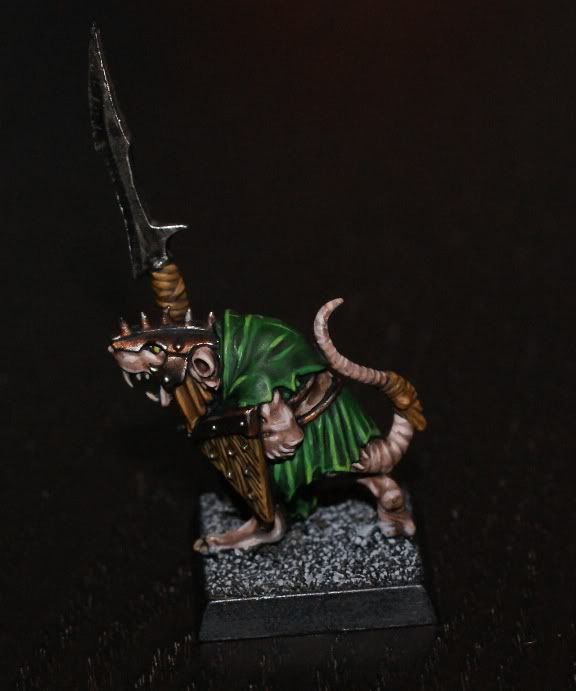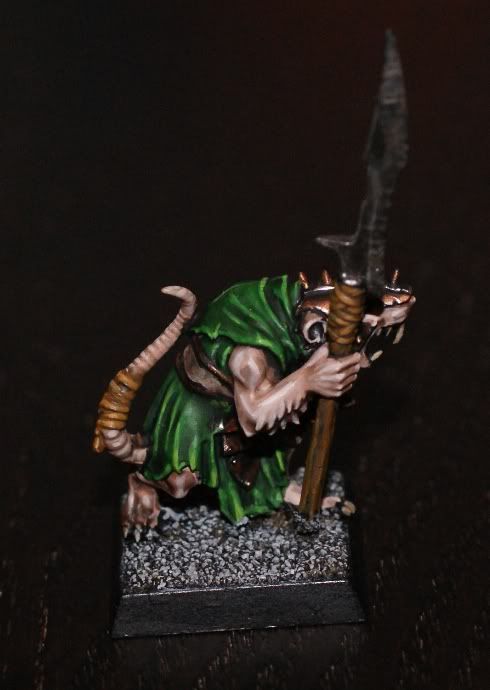 Apologies if you get 1 big wall of text. I think my internet is being silly and all the white lines are removed.