Discussion Starter
·
#1
·
Ok, I'm not going to lie. This is in no small part to motivate me to finish my guard. In one month, Cyric is going to get a Jackal Titan. I've promised that I won't start my Mars Pattern Warhound until he get his so we can do 'em together. As soon as that happens everything else will get pushed to the back burner I'm sure. Either way we'll keep you updated with plenty of pix.
So this is my old Imperial Guard Army, 'The 104th Boom Town Ratz.' I started these guys long ago and based them off of a hive world based army. There are some sweet old minis in there and some very cool and fluffy squads that I'm quite proud of. The 'First to Die' Penal Legion, Rough Riders mounted on Wolves complete with a converted Commissar to lead them. A full sniper squad. Several tanks. Lots of necromunda figs. I think I even have an old fig eating a grox burger in there somewhere.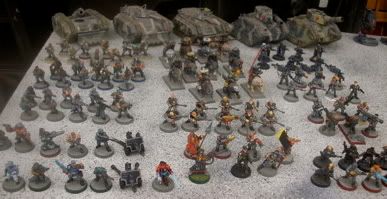 So now I'm building my new guard, 'Air Cadia.' The Seventh Cadian Airborne. Also geared for urban combat, but much more clean and professional. Everything is geared towards recon and can deep strike. And if I may say so, much better painted. Not too many cool conversions as of yet, aside from the one lead sentinel. It does have one slightly broken Valkyrie High Wing.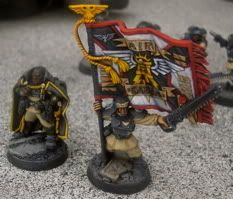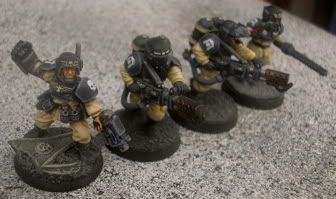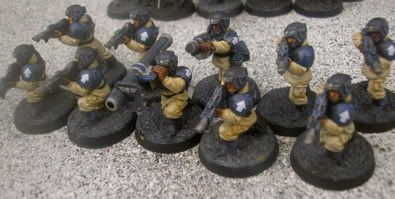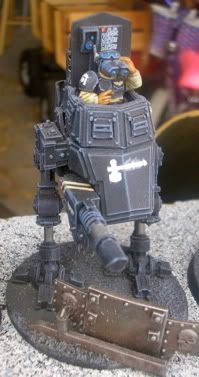 My plans are to flesh out the Cadians in such a way that they can play on their own and then join the Ratz for Apocalypse games. So it would be nice if they could compliment each other. After that, I start adding the Inquisition figs.
I have several models for the Cadians waiting in the wings. I have two ten man troop squads, an anti infant squad, an anti tank squad, a mortar squad, the rest of my HQs and three basilisks. Oh, and that Mars Warhound Titan. Next up are my HQ units.
Gimmie your thoughts, questions and answers. Colors schemes, composition and paint jobs as well as any input on taking pix of minis (these were taken in the middle of a snow storm.) C'mon, I can take it.
-Jake