Discussion Starter
·
#1
·
Alright,
I've been away from the hobby and the site for far too long. Now it is time to get back to it and get some armies done. First up to the plate are my Dark Angels. My tanks are nearly complete, and just need some details and transfers added to be done. I also plan to finish up my Dreads in the very near future.
I also have 5 Assaulty Terminators assembled and magnetized, so I can use either the hammers and shields, or the pair of claws as the situation dictates. I plan to add the 5 Termies from the Black Reach box, and be able to mix and match 10 of them (11 with the guy that came in the White Dwarf that I used as a test of the quality and use-ability of the Black Reach Termies)
Next up are my Drop Pods. I have 2 partly assembled, and plan on painting them in a not-entirely-assembled state, so I can do the interior details without the top half getting in the way.
Finally will come the Ravenwing. I have 12 Bikes, 2 Attack Bikes, Chappy on Bike, 4 Tornadoes, 1 Typhoon, and Sammael on Speeder.
My Dev, Assault and Tac Squads are in a mixed state, with some partly painted, and many still unassembled. They will come near the end, followed by my HQ, Scouts and other Characters.
Below is the state of my Armour (Minus the Land Raider):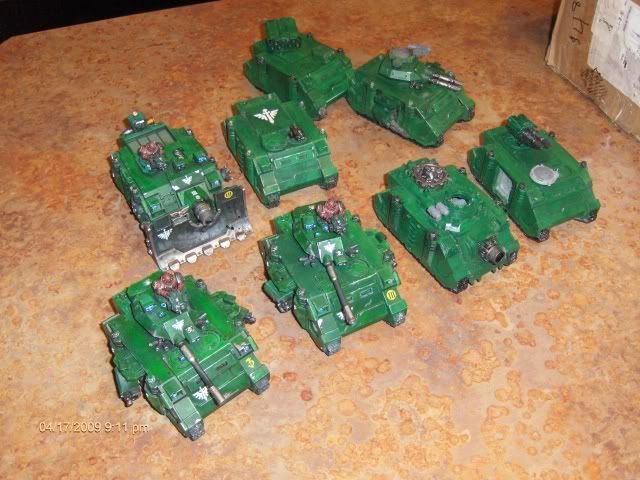 Thanks for stopping by my Project Log, I look forward to your comments.
-T