·
Treadhead with a Chainaxe
EDIT:
More pictures in post #23, #30 and #36
So, after months and months of talking about getting some pictures up, I finally got around to borrowing a camera and figuring out which side of it was the back and which was the front. But still, I managed to get a few pictures(In my very low-budget studio consisting of a desktop lamp, a white towel and a box) and shared them with the others in LO-chat, who then suggested I should post them here. Besides, it's about time I added something of my own to the painting section, rather than just asking a question every other year or so.
This is squad Bloodwind of the World Eaters Legion, or in game terms;
8 Chaos Space Marines with the Icon of Khorne a Meltagun, led by an Aspiring Champion with a Powerfist mounted in a rhino with extra armor.

From left to right, the front row are The Meltagunner, The Icon Bearer, Anonymous Boltgunner and Average Bolt Pistol Guy. The Back row, from left to right is Ultragrit Dude, Bayonetted Boltgunner Man, Chainsaw-Shield Bob and then the Champion hiding away behind the others since he's a bit camera shy.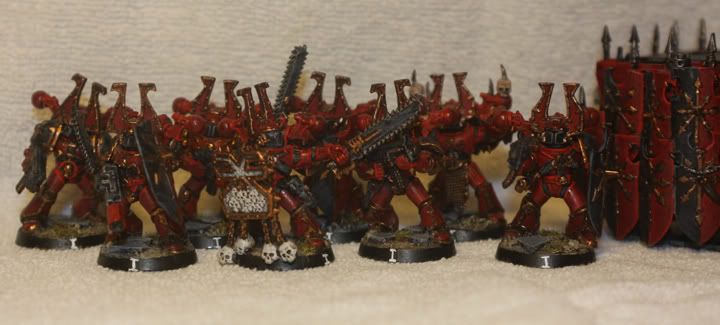 Another angle.
Yet another angle.
February 3rd 2009 EDIT:
Found this picture on my harddrive: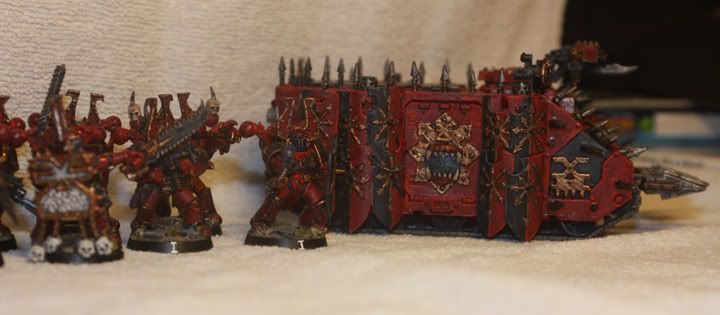 Side shot of the rhino.
February 3rd 2009 EDIT:
Found this picture on my harddrive:

Overview.
The rhino. Extra armor made from
22
Chaos Warrior shields from Fantasy Battles, the Front and the Doors are from Forgeworld and the spikes are scavanged from alot of chaos vehicle accessory sprues. The big Khorne rune on the top hatch is a plasticard cutout.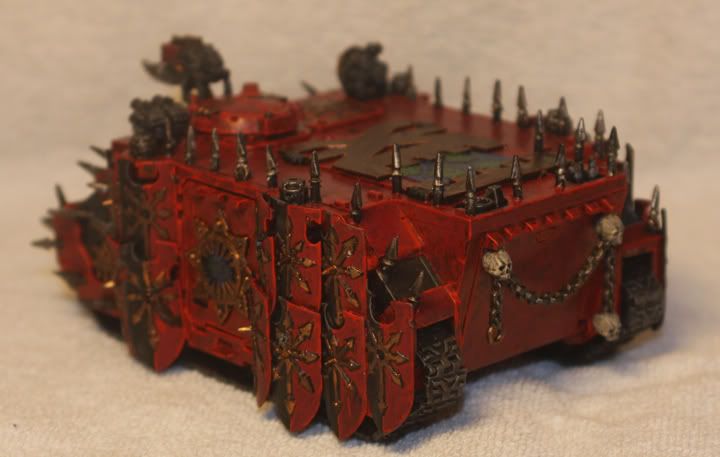 And the rhino from behind.
I can't use cameras, so the pictures aren't as great as they should be, but someone might be able to discern enough for it to spark some inspiration.